Autosmart Franchise
Shaun traded retail operations for an Autosmart business
31st May 2012
Shaun Martin is the new Autosmart franchisee for Bromley.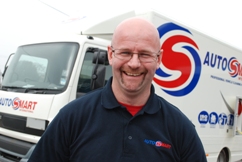 "I previously worked as an Operations Manager for a large chain of Chinese supermarkets. I had risen through the ranks as far as possible and was ready for a new challenge. I really wanted to have my own business, but was unsure exactly what to do.
"When my wife saw the advert for an Autosmart franchise, she knew that it was perfect for me. I love cars – I've restored my own classic car and really wanted something that would take me out and about, rather than sitting in an office all day. I also loved the idea of working by myself, rather than having the headache of employing staff.
"It's all still very new, but I I'm really enjoying working for myself. The support from Autosmart is fantastic - I'm absolutely certain that I made the correct decision."
To find out more information about Autosmart automotive franchise simply click the button below

Autosmart Franchise Case Studies