Your Plumber Franchise
News
Features
Events
Resales
Stuart and Angela Randall started their Your Plumber franchise in 2011
7th July 2016
Giving up their comfortable well-paid jobs in banking to buy a Your Plumber franchise was a massive step for Stuart and Angela Randall. But now in their fifth year of trading they are both equally resolute in their view – buying a Your Plumber franchise was one of the best decisions they've ever made.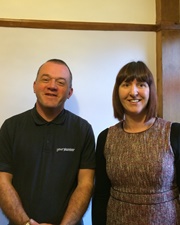 Stuart and Angela operate their Your Plumber franchise in the Staines and Ashford area in West London. They currently have two vans providing plumbing and heating services, handling small repairs to the installation of complete central heating systems. In common with all good businesses they have built a solid foundation of loyal regular domestic and commercial customers and each year has seen a healthy improvement in turnover and profits
Angela says:
"Its been very challenging at times but we've worked hard, made the necessary sacrifices and are very proud of what we've achieved so far. But there's so much untapped opportunity for the Your Plumber service and so we're now focusing on further growth".
Before buying a Your Plumber franchise in 2011 Stuart had spent 24 years as a Corporate Manager with Barclays, dealing with companies with a turnover of up to £50m. Angela worked as a Business Manager, also with Barclays. They enjoyed the usual remuneration package that such jobs provide; very decent salaries, company car, pensions, bonuses etc. But increasingly they both became despondent with life in the corporate world and realised that a change was necessary. For Stuart, self-employment was a long held ambition. A passion for DIY and a regret they he had never learnt a trade were steering his thoughts and from an internet search they found the opportunity they were looking for; a Your Plumber franchise.
"Your Plumber impressed us right from the beginning" says Stuart. "The web site immediately made a positive impact on us and we came away from our first meeting with Dan feeling very enthused about the potential Your Plumber offered. We were totally convinced by Dan's commitment to developing Your Plumber as a premium, quality-focused service and I think the progress our business has made is absolute proof that it's the right strategy".
Further research persuaded Stuart and Angela that a Your Plumber franchise was the best way for them to get into business for themselves and they started trading in June 2011. Within 6 months they had put on a second van.
Although not typical of the Your Plumber management franchise, Stuart devotes much of this time to undertaking plumbing repairs, boiler installations and service visits. Angela is responsible for administration, dealing with customer calls, managing the finances and conducting marketing. By still being able to work from home they are both conveniently able to combine running the business with other family responsibilities, however they expect that a move to business premises is imminent. One option they're considering is to operate from a small retail site in order to help improve the profile of the business.
As Stuart explains:
"Fortunately we've never been in a position where we've been too worried about there not being enough business. It's always busy. We had a couple of slow months last year due to the fact that the winter was mild but otherwise the business is continuing to grow really well".
The next move is to put a third van on the road. Demand is such that this is now a priority.

"Inevitably as we become better established we are finding an increasing number of regular customers coming back to us" says Angela. "However, we can see opportunities to expand the business by getting more commercial customers, particularly letting agents and property managers. We're seeing a lot more business from these sectors as they seem to really appreciate the way Your Plumber works".
Stuart and Angela have commercial skills that are certainly enabling them to maximise the potential their business offers, however they are absolutely clear that they would not have made anywhere near the progress they have if they'd set up independently.

"There's no way we would have reached the level of turnover if we'd been on our own, not even half of it" says Angela.
They are both big fans of the Your Plumber business management program, which enables fundamental administrative functions such as work scheduling, financial control, estimating and invoicing to be efficiently handled. It also provides remote access to a library of key documents to help with health & safety and staff management.

"Although not as sophisticated its almost as good as the system we used in the bank!" says Angela.
She continues:
"The Your Plumber structure is excellent. You know what you need to do, when you need to do it and are told very clearly how to do it. We liked the fact that the set up was focused on a long-term relationship. We felt comfortable that Your Plumber was not just interested in making money from the franchise fee".
They also cite flexibility as being an aspect of the franchise that they appreciate, explaining that the Your Plumber team lets you get on with running the business as you want but are always available and ready to listen to suggestions.
Stuart and Angela have worked hard to build a business but with the help of Your Plumber it is paying off. They are at a point where the business is fulfilling their ambitions and now providing earnings that match those of their jobs at Barclays.
Their only regret is that they didn't find out about Your Plumber earlier than they did.
To find out more about Your Plumber franchise opportunites just click below to request your FREE franchise information pack