Mobile Coffee Franchises
Mobile Coffee Franchises - One of the franchise sectors best associated with franchising, Coffee franchises have shown strength and resiliance in all economies and are set to continue to grow in all sectors. Mobile Coffee franchises are one of the fastest growing sectors of coffee retail, taking custom built vans selling coffee and other food and drink products direct to the customers.
Coffee Vans and mobile coffee franchise opportunities are profitable by minimising costs without premises and extensive staff or equipment costs (other than the initial van-based kit). Start you own mobile coffee franchise today by exploring the mobile coffee franchises available in the UK here today.
Latest Mobile Coffee Franchise News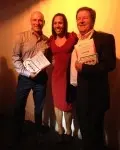 Cafe2U celebrates its 'best year ever' in national BSA accreditation awards
16th October 2013
Cafe2U have received national accreditation levels for sixteen of its mobile coffee outlets in the Beverage Standards Awards, 2013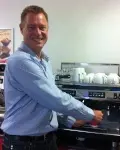 Cafe2U welcomes new Franchise Development Manager South East
2nd May 2013
Cafe2U is excited to welcome Kevin Pegrum as their new Franchise development manager. Kevin has been awarded the first area developer...
Latest Mobile Coffee Case Studies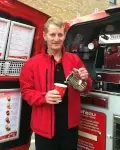 Gary North is delivering a different kind of cargo with Cafe2U
5th April 2013
Cafe2U is proud to announce a further addition to their UK network. Gary North has successfully completed his initial training and has now...
Links & Resources
Newsletter
Mobile Coffee Franchise - Top Pick

Cafe2U
Cafe2U Franchise is a coffee franchise with the supreme bean machine
•
View Franchise Profile
•
Add To Franchise List
Mobile Coffee Franchise Opportunities
my franchise
franchise search
franchise type
Top ten franchise business types:

Explore all franchise types...
franchise category
Top ten franchise categories:

Explore all franchise categories...