Ovenu Franchise
Stevenage businessman targets growth with job creation
12th September 2016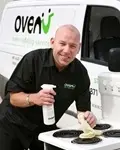 An experienced Stevenage entrepreneur has his sights set on expansion and job creation after seeing demand rise for his oven valeting service.
Danny Bunyan, who owns Ovenu Stevenage, plans to hire two sub-contractors to keep up with the increased demand after averaging more than 600 oven valets annually throughout his tenure.

Danny Bunyan has owned the firm for nine years and also operates a unique oven repair business alongside his oven valeting service.
Danny said:
"I have enjoyed a very successful nine years and have been fortunate enough to build a sustainable and thriving firm during this time. I am now in a position to expand the business and hopefully by the time of my 10th anniversary, I will have two sub-contractors working with me and an even greater presence in Stevenage and beyond."

Ovenu Stevenage provides its environmentally-friendly service to homes and businesses in the town and throughout Hertfordshire.

Danny, who is from Stevenage, added:
"By bolstering my workforce, this will allow me to manage the business even more effectively, as the bulk of the day-to-day duties will be taken care of by fellow professionals. I am excited by what the future holds for the firm and looking forward to celebrating a decade in business with Ovenu next year."

Ovenu is a franchise network made up of more than 100 businesses owned by men and women working throughout the UK.

Rik Hellewell, Managing Director and Founder of Ovenu, said:
"Danny is a longstanding Ovenu franchisee and his success is thoroughly deserved. He has bought into the business model 100% and reaped the rewards by utilising our franchise network and adopting his own ideas to create a thriving small business. I would like to wish him all the very best with his ambitious expansion plans."

The Ovenu valeting process involves dismantling key components of an oven such as the door, interior panels, fan and shelves and placing them into design-registered tank equipment, which uses safe, non-caustic products to clean the oven parts. The whole process takes around three to four hours and leaves the oven, hob and exterior in immaculate condition.
To find out more about the Ovenu franchise just click below to request your FREE franchise information pack

Ovenu Franchise News