Mac Tools Franchise
The cutting-edge of product innovation
12th June 2012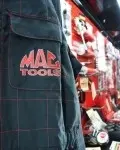 "Each of our franchisees is trained to the highest standard" By Paul Clegg - Mac Tools UK Recruitment Manager
Originally based in the state of Ohio, Mac Tools was founded in 1938 as the Mechanics Tool and Forge Company by seven men with the shared vision to manufacture the finest tools in the world. After steady growth and numerous successful partnerships, Mac Tools launched in the UK during 1990, where it quickly became the number one choice for professionals all over the country.
As part of their ongoing development, product innovation is something that Mac Tools takes very seriously, particularly as they understand that new materials and opportunities are arising all the time. Within the past year, they have continued improving and upgrading the products they offer by listening to the consumer and tailoring to the requirements and environments of the industry.
To name but a few, product innovation within the last 6 months alone has produced:
"The Daddy" premium ½ inch drive impact wrench
Mach 5 wireless diagnostics kit
EuroReset service and maintenance tool
EuroMentor diagnostic unit
A new generation of workwear
Serpentine belt grabber
A large heavy-duty padded creeper seat
Brake fluid tester kit
Mac Threadlocker solution
myTorch, the USB-compatible programmable LED device
Relay bypass kit
In a world of ever-changing automotives and mechanics, it is imperative for Mac Tools that they remain on the cutting-edge of technology with everything they provide. Only by maintaining this level of quality will they be able to protect the strong brand reputation that they have built in a UK so far and continue to grow market share through their expanding franchise network.
For Paul Clegg, the Mac Tools UK Recruitment Manager, this deliverance of quality is just another element of the job and something that becomes as engrained within the network: "Each of our franchisees is trained to the highest standard from the outset, so being able to provide the best advice and information to their customers becomes second nature. Our ongoing mission is to ensure a benchmark level of safety and professionalism within our industry, whilst manufacturing products that our customers will enjoy using."
Now with over 100 franchisees and a dedicated Head Office team, Mac Tools is still recognised as one of the leading tool companies in the country, known as a brand you can trust at a price you can afford.
To find out more about Mac Tools Automotive retail franchise simply complete the form or click the button below

Mac Tools Franchise News