Riverford Organic Franchise
Meaty Award for Riverford Organic
23rd October 2011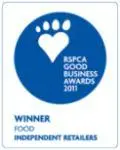 "The string of accolades Riverford has received in the last three years is testament to the company's dedication to sound ethics" - Laura Cottee, Riverford's franchise development manager
Riverford Organic wins at the RSPCA Good Business Awards
Organic home food delivery franchise, Riverford Organic, has won a major award in the Independent Food Retailer category at the RSPCA Good Business Awards. The award was presented at a ceremony held at London's One Marylebone. Riverford beat stiff competition from other brands on the day, including Daylesford Farm Shop, Edge & Son, The Ginger Pig, JW Metterick & Son and The Welsh Farmyard.
Company founder, Guy Watson said:
"We are genuinely thrilled to have won this award. It highlights the lengths we go to ensure that the meat, milk and eggs we sell are as ethically produced as the vegetables we grow. Riverford is about good food, ethically produced or sourced from ethical suppliers. Securing this type of recognition from the RSPCA is fantastic news for us."
Judges were particularly impressed with the way Riverford communicated its animal welfare story through newsletters and social media. The company was also praised for its 'meat and 10 veg' campaign, which encourages customers to eat better quality meat, but less often, to help reduce intensive rearing.
Dr Geoff Spriegel, one of the judges said:
"We chose Riverford for their outstanding commitment in all areas. They have engagement with their suppliers and customers, they use local suppliers and abattoirs and they have a long history and credibility. They have gone out to further build their network and make the most of social media to build strong customer communications."
The award joins a host of others won by Riverford including Best Online Retailer 2010 and 2011 and Best Ethical Business 2009 in the Observer Ethical Awards, and Best Organic Retailer 2009 and the Fruit and Vegetable category in the 2009 Soil Association Awards.
Laura Cottee, Riverford's franchise development manager said:
"The string of accolades Riverford has received in the last three years is testament to the company's dedication to sound ethics. The fact that Riverford is being recognised at such a high level is also great news for our locally operating franchisees. Winning this award augments the credentials of our brand, and franchisees can enjoy a greater level of trust and loyalty from potential and existing customers because of that. Ultimately, there's a strong business case for good ethics, and winning the RSPCA award demonstrates that."
Find out more about running your own Riverford Organic Vegetables Franchise by clicking below to request your FREE franchise information pack

Riverford Organic Franchise News