InXpress Franchise
A Delivery of Success at InXpress
27th June 2016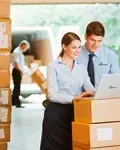 InXpress recently held their annual convention in Warrington. Every year, the event gives franchisees an opportunity to meet together to share ideas, celebrate their successes and discuss best practice.

Over 80 franchisees attended the two-day event to find out more about developments in the business and to meet old and new friends within the network. The convention is also a great opportunity to ensure that everyone in the network aligns with InXpress' core values.

The day consisted of expert sessions including software, technology and best practice in business. Round table discussions were also hosted to support franchisees in selling their products, how to handle new and existing customers and new business tools to help them continue their success.
Franchisees were also given the chance to celebrate and recognise their successes in an evening awards ceremony. Winners included:
Wesley Noble, owner of the Sheffield North territory - Franchisees' Franchise of the Year
Sally Wright, owner of the Preston territory - InXpress' John Drury (Special Recognition) Award
Ben Kirby, Franchise Sales Director, explains:
"We encourage our franchisees to work closely together and support each other as much as possible. Some of them live quite far apart so the annual convention is the only time they get to see each other in person! It's great to see them networking and sharing their ideas and new developments in the business. We know that to have a strong network, all of our franchisees need to work together and support each other and at the convention we can see that they do."

The annual convention is part of the ongoing training and support that InXpress franchisees receive. InXpress know that for the whole network to be successful, they must continually share best practice and keep franchisees up-to-date with changes in the technology used within the business. This ensures that franchisees remain ahead of the competition in their local markets.

InXpress is one of the world's largest franchisors of worldwide express parcel delivery and transportation services. They are the number one reseller of express courier services offering solutions for internal and domestic express services. Franchisees offer express, freight and mail services through world-class carriers that customers know and trust. InXpress gives those with business or management experience the chance to develop their existing skillsets to build a scalable and flexible business with high earning potential.
You can get more information about the InXpress franchise opportunity by clicking to request your FREE franchise information pack

InXpress Franchise News