InXpress Franchise
Success in a Growing Market for InXpress
7th July 2016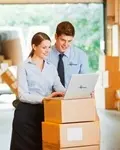 There has been a significant rise in online retail sales over the last six months, according to figures from the British Retail Consortium (BRC).

The figures showed that more than a fifth of UK retail sales took place online in May for the fifth month in a row. The contribution of online to overall sales grew as the contribution of stores fell as more and more people move away from in-store shopping to online. This is great news for the shipping sector as increasingly retailers and customers look for reliable couriers at great rates.

With online retail sales soaring, InXpress franchisees are more successful than ever. They take advantage of a growing marketplace to build profitable and scalable businesses. Sales in online retailing reached £52.25 billion in the UK in 2015 which was a 16.2% increase on a record breaking 2014! There is a growing demand for courier services in the UK, whilst continued economic uncertainty means most retailers are seeking lower cost courier and parcel service solutions. InXpress can meet and exceed their expectations with their offering and innovative e-commerce integration software.

InXpress is one of the world's largest franchisors of worldwide express parcel delivery and transportation services. They are the number one reseller of express courier services offering solutions for internal and domestic express services. Franchisees offer express, freight and mail services through world-class carriers that customers know and trust. InXpress gives those with business or management experience the chance to develop their existing skillsets to build a scalable and flexible business with high earning potential.
Ben Kirby, Franchise Sales Director, explains:
"Our sector is growing rapidly and it's great to see our franchise network thriving and taking advantage of an ever increasing need for courier services. As more and more people begin to shop online rather than go out to the shops, we have seen an increase in the number of retailers and customers looking to use our services. By offering discounted rates and the latest technology, we allow our franchisees to remain ahead of the competition."
You can get more information about the InXpress franchise opportunity by clicking below to request your FREE franchise information pack

InXpress Franchise News