Mac Tools Franchise
Five new franchisees pick up the tools of the trade
29th May 2012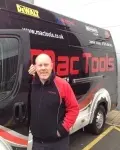 "I felt that I would be able to undertake a Mac Tools franchise because I had an interest in sports cars and motorcycles" - James Jones, Mac Tools Franchisee
The pace is picking up in the automotive industry, as Mac Tools announce five new franchisees.
Mac Tools is part of Stanley Black & Decker, an $11+ billion global organisation employing over 30,000 people worldwide and owner of the world famous Stanley Black & Decker, Facom, Britool Expert and DeWalt brands.
The Mac Tools line consists of over 8,000 professional tools including screwdrivers, ratchets, wrenches, and assorted air tools, as well as its own toolboxes. Their franchisees are trusted distributors of what many consider to be the best quality tools on the market to customers such as car dealerships, automotive repair shops, manufacturing units, and engineering companies.
The new franchisees join a UK network of over 100 distributors and are keen to get out on the road after completing their training within the UK and at the Mac 'Tool School' in Ohio, USA. During their launch and opening weeks, they'll receive hands-on support from a Regional Franchise Manager and regular support from a dedicated team of staff at the European Headquarters in Sheffield.
Each Mac Tools franchisee has their own exclusive territory – Kevin Rault based in Jersey, Steven Grant in Salisbury, John Coleman in Mansfield, Jamie Jones in Hereford, and Garry Budd based in Mangotsfield.
John has worked in the motor trade for 10 years and has always been a Mac Tools customer. His reason for joining their network stems from his own experience, "I have a huge belief in the product and a massive interest in the motor trade. I'm looking forward to a new challenge and feel that having a vast knowledge will enable me to shine when dealing with my customers."
Jamie was previously a freelance photographer looking for a complete change of career, "I felt that I would be able to undertake a Mac Tools franchise because I had an interest in sports cars and motorcycles, and understand the products being sold having used a number of them myself. I also felt that my people skills from previous jobs would be transferable."
For Steven Grant, it's simply a case of being your own boss; whilst Garry Budd is looking forward to starting a new chapter in his life and being part of an exciting worldwide brand like Mac Tools.
With a potential UK market of over £150 million, Mac Tools is a great franchise for someone with the drive, passion and desire to work for themselves.
To find out more about Mac Tools Automotive retail franchise simply complete the form or click the button below

Mac Tools Franchise News