Riverford Organic Franchise
PROSPECTIVE FRANCHISEES FIND A FRESH WAY TO DO BUSINESS
14th July 2011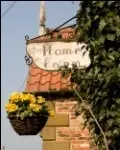 Even with 40 percent year-on-year growth, and more than 70 franchisees joining the network in the last ten years – not to mention a rapidly growing collection of illustrious awards – Riverford Organic's quest to find the right calibre of franchisees continues.
Says Laura Cottee, Riverford's territory services manager: "Even the most established and well-respected franchises need to work hard to continue to recruit new franchisees. Which is why we're putting on an entire Discovery Day at Home Farm in Yorkshire – to encourage potential franchisees to come and meet us, and find out how personally and financially rewarding running a veg box delivery business can be!"
Adds Cottee: "One of the main things that happens in a mature network is that, the longer you operate, and the more franchisees you have, the higher the probability that individuals or couples will reach the point where they're ready to sell up – often at a very healthy profit – and move on. It's one of the main reasons we're always looking for hard working, ethically minded entrepreneurs. "Our Discovery Day at Home Farm will give people the opportunity to come and meet us, and find out if Riverford is a business they can see themselves running."
One established franchisee, who was among the first to begin operating in the north of England, is Mary Watson. She started her Sheffield veg box delivery business with husband Chris in 2007. The fact that Mary was five months pregnant at the time pregnant did nothing to stop the ambitious couple from quickly building the size and profitability of their area.
Says Mary: "The availability of our virgin territory coincided with the opening of Home Farm in Yorkshire. In our first delivery week we had just 60 deliveries to make. Now we have more than 500 a week, with plans for further growth. The important thing is that we've had a lot of support from Riverford head office, right from day one. They've helped us with everything from setting up the business through to our initial launch campaign, which included PR and leafleting."
Riverford is hosting its franchise discovery day on Saturday 20 August between 9.30am and 4pm at Home Farm, Newby Wiske, near Northallerton. The day will allow potential franchisees to meet the team, and learn more about their role, and take a tour of the Farm. Riverford has 16 territories spanning areas such as Sheffield and Doncaster through to Harrogate and York, and up to the North East beyond Newcastle and Hexham. All the areas have an existing customer base and potential for growth.
Mark Smith, general manager at Riverford on Home Farm said: "This is a great opportunity for people in the region who are passionate about food and looking to build their own business. We are looking for people who share Riverford's ethical values, and who support local farmers and producers. Above all, we're looking for people with excellent customer service and the ability to sell, who will help us to continue to grow the business and our customer base in Yorkshire and the North East."
To find out more information about Riverford Organic simply complete the form below

Riverford Organic Franchise News