Trophy Pet Foods Franchise
Trophy Business
Van-Based Pet Franchise

Trophy Pet Foods is a nationwide Van-Based Pet Franchise. The business was established in the early 1990's and was the first mobile pet food franchise in the UK. The company has been the market leader in its field andnow has an exceptional team of franchisees.
With the knowledge, experience and know-how Trophy Pet Foods knows how to make each of its franchisees successful.
New For 2016
Trophy have launched an independent, professional qualification for all their new and existing Trophy franchisees - an independently certified CPD in pet nutrition and UK pet food legislation program. This nutritional qualification enhances the in house training provided and will allow franchisees to offer a more professional, qualified and dedicated service to their customers.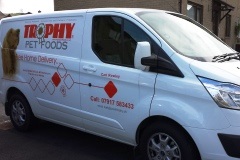 There will always be new trends, ideas and advancement in pet nutrition as Trophy Pet Foods continues to focus on the next 25 years in order to meet the ever increasing demand within the home delivery pet food market, which is why Trophy believe in continuous education & training so that franchisees can deliver a better and better service. This distant learning course will ensure that are franchisees are fully trained in pet nutrition, providing you with a Professional Development Qualification.
This course is included as part of your franchise package.

Trophy's brand new video promos - A visual aid for all customers to see how the Trophy services and foods can work for them. Downloadable to any device, these short video promos provide information on our services and foods, as well as nutritional information. All franchisees are provided with a tablet to easily show these visual aids to all customers and potential customers
The Benefits Of A Trophy Business:
Flexible working hours, working from home to suit both you and your customers
Unique British Brand, manufactured at Trophy's own plant
Exclusive area

Sustainable high margins
Expert training which not only gives franchisees Trophy Nutritional Advisor status but also the knowledge & know-how to talk passionately and confidently to customers
Positive cash flow
Low food miles, sustainable sourced British ingredients
A proven system
Huge job satisfaction
The Trophy Business:
The Trophy Pet Food's tried and tested formula combined with their superb launch programme and support package is designed to ensure every new franchise owner can grow and develop an exceptional local pet food business. There is, immediately, the strength of a large organisation behind you – a proven system.

Convenience, Quality, British is what defines Trophy Pet Foods. From their quality british made pet foods, free home delivery service, free samples, competitive pricing, free nutritional advice from the experts, to your friendly customer service. All combine to provide a winning combination.
Trophy realise just how important and what a big decision it is to enter into a new venture and start a new business. But this is where franchising comes in. Trophy have the correct skills, experience and know-how necessary to make your new Trophy Business succeed, and are there to train, support and guide you along the way.
The Trophy range is extensive and includes complete nutritionally balanced foods for all pets; their pet foods allow you to offer your customers a range of pricing structures, personal choice, specialist foods and value for money.
Trophy stock a complete, evolving range of pet accessories, treats, pet care items, feeding utensils, grooming and hygiene products. This enables you to offer a one stop shopping concept. They really do cater for everything the British pet owner requires.
The range is sold to the pet owning householder, the pet trade and other outlets within a defined area. This area will contain over 100,000 households with around 60,000 pets, so the market potential is enormous.
Training and Support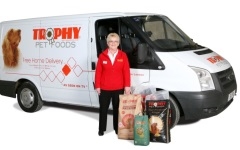 The first 4 days training (spread over a week at Trophy's offices in Oxfordshire) kick starts the business. Followed by 4 days of in-field training in your area with your Franchise Support Manager (FSM).
This is then followed by a 1 day work shop, after approximately 3 months of trading, to review and discuss your new business, consolidate and plan for the future. Also included is a further 1 day of Show/Event training by an established Trophy Franchisee to guide you through your first show or event.
You are never alone when you form a partnership with Trophy Pet Foods, starting with a smooth and effective launch programme. They are also with you every step of the way, after all your success is their success!
Ongoing support is crucial and Trophy franchisees benefit from excellent communications, product development, free promotional literature, local & national advertising, help with growing the customer base, seminars, a franchisee council, motivational support and, of course, the FSM's.

The Franchise Package:
Ten day comprehensive training programme
Exclusive territory, large enough to grow and expand
Local advertising & marketing
Starter packs of stationery and tools
Accounts software & tablet
Initial starter stock pack
Trophy van livery and display module
Nutritional qualification
Corporate identity
Trophy show equipment
All promotional literature
Effective launch programme & PR campaign
Comprehensive operating manuals
Dog weighing scales & trade scales
Full back up and ongoing support
Licensing rights
Franchise Support Manager
Brand building & proven system
Video visual aids
The Trophy Pet Foods Franchise investment fee is £13,995 plus VAT and includes all of the above; there are no hidden extras. The franchisee will also need to fund a medium size van and working capital.
Is A Van-Based Pet Franchise For You?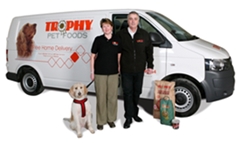 Trophy don't do the hard sell approach, sales experience can help, but they can train you in this, if you don't have this skill currently. You simply need to be focused, motivated to run your own business and prepared to work hard, putting in some long hours until you are established.
Communication skills will also offer you success. This will be your very own local based business, with great flexibility, long term rewards and job satisfaction.

Find out more about the Trophy Business, the leading Van-Based Pet Franchise. Click the button below now!