Trophy Pet Foods Franchise
Trophy Business
Van-based Pet Franchise

About the Trophy Business
The Trophy Business was established in 1990, the first Van-based Pet Franchise. Since its conception, the company has been the market leader in its field and now has a large team of Trophy Business owners.
The Trophy Business is a nationwide company with the knowledge, experience and know-how to make each of its Van-based Pet Franchise owners successful.
Trophy Business: Quality Products
The Trophy Pet Foods products are made from only the best available ingredients and to the highest of standards. You have to have confidence in the products and services you sell as part of your Trophy Business.
The Trophy Business allows you to offer your customers Superior Nutrition at Affordable Prices. There is a huge range of branded Trophy Pet Foods, treats and accessories. The range is sold to the pet owning householder, the pet trade and other outlets within a defined area.
Trophy Business: Services and Territory
The territory covered by your own Trophy Business will contain over 100,000 households with around 60,000 pets, so the local market potential is enormous. Customer service is a priority with services offered including:
Nutritional advice
Free home delivery
'One stop' shopping
Skin and coat management
A comprehensive food range
Pet care accessories
Small mammal foods
Microchipping and healthcare
Treats and accessories
In addition, the Trophy Business have a new countryside range for all those new chicken owners, a wild bird seed range and even have food for goats!

The Trophy Business works closely with each Van-based Pet Franchise owner to establish a large customer base within the first few months. With a 'try before you buy' policy experienced Trophy Business owners can expect an excellent take up rate and great customer loyalty.
Trophy Business: The Strength of a Mobile Brand
A good image is vital to any new and existing business. Trophy's corporate image is second to none and each Trophy Business owner has their van fully sign written, making sure that everyone knows what they have to offer.
This professional image is carried through to the uniform, name badges, promotional literature, leaflets, and advertising, samples, food bags and show equipment.

Your vehicle will also be kitted out with the Trophy Business display module to create a mobile pet shop. The Trophy Business can offer all the essential elements to launch, develop and grow a great Van-based Pet Franchise.
Trophy Business: Package Includes:
Nine Day Comprehensive Training Programme
Protected Territory, large enough to grow and expand
Local Advertising
Starter packs of stationary and tools
Trophy Accounts Software
Initial Starter Stock
Trophy Van livery and display module
Corporate Identity - including, corporate clothing, show banner & show sail & work bag
All Promotional Literature
Effective Launch Programme & PR campaign
Comprehensive operating manuals
Trophy Nutritional Advisor Certification
Dog weighing scales & trade scales
Full back up and Ongoing Support
Licensing rights
Franchise Support Manager
Brand Building & Proven System
The Trophy Business investment fee is £13,995 plus Vat and includes all of the above; there are no hidden extras. The franchisee will also need to fund a medium size van and working capital.
Trophy Pet Foods Franchise - Training and Support
Trophy Business owners undergo a targeted training programme. The course includes:
Operations, sales and marketing and pricing structures
Product knowledge and nutritional training
Planning and problem solving
Growth and development
Trophy Business owners have full access to their own Trophy Franchise Support Manager (FSM), who carry out all support, development and growth plans. The FSM is responsible for the infield launch programme and will guide the new franchisee through their first year with Trophy.

Ongoing support is crucial and Trophy Business owners benefit from:
Excellent communications and product development
Free promotional literature, local & National advertising
Seasonal newsletters for all your customers
Seminars, a franchisee council, motivational support and Franchise Support Manager
Brand building programmes
Trophy web site with your own pages for an individual message to your customers and a referral scheme
Annual Conference!
After 23 years of operation, the Trophy Business Head Office Team have developed & perfected an excellent Launch Programme followed by some the best support around. This product knowledge, nutritional advice and sales technique is exactly what is needed to develop a large customer base. Everything is tailored towards this goal, allowing your Van-based Pet Franchise to become profitable as soon as possible.
Trophy Business: Who Is Ideal?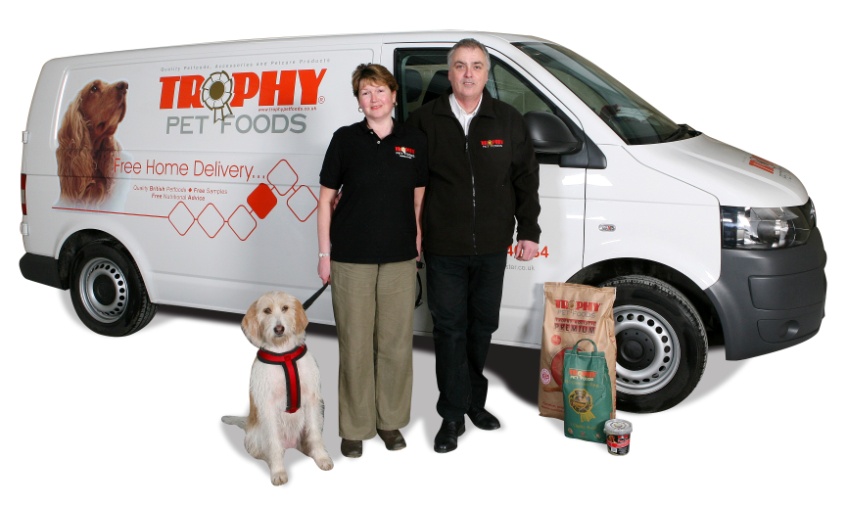 Trophy don't do the hard sell approach. Sales experience can help, but Trophy can train you in this too. You simply need to be focused, motivated to run your own business and prepared to work hard, putting in some long hours until your Van-based Pet Franchise have been established. Communication skills will also offer you success.
This will be your very own local based business, with great flexibility and long term rewards.
Existing Trophy Business owners come from a variety of backgrounds including ex-farmers, miners, bank managers, vet practice managers, plus teachers, factory shift workers and print managers, they are all now successful Trophy Business owners!
Trophy Business: Conclusion
With the immediate strength of a large organisation behind you and the support of Trophy's 90+ current Van-based Pet Franchise owners you will never be without the knowledge you will need. The Trophy Business is the market leader in pet food home delivery and the original and largest Van-based Pet Franchise.
The Trophy Business are also full members of the British Franchise Association, The Pet Food Manufacturers' Association and is approved by the Ethical Company. Trophy are proud to manufacture our food at their own plant in Northamptonshire and use British ingredients, where they can, in all their foods.

To find out more and request a FREE Information Pack about the Trophy Business, the leading Van-based Pet Franchise, simply click the button below, now...