Autosmart Franchise
LIMITED OPPORTUNITIES AVAILABLE WITH THE AWARD-WINNING Autosmart UK Franchise
Mobile Showroom Business

Established Autosmart UK Franchises Currently Available: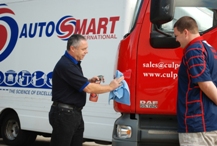 Kilmarnock
Swansea
Newport
West Leeds
Hull
Dudley
Bracknell
Guildford
Bournemouth
Basingstoke
Eastbourne
Isle of Wight
Tunbridge Wells
Ashford
Lewisham
Croydon
Greater London
Autosmart UK Franchise Background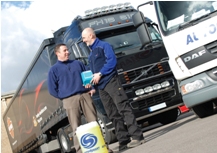 Autosmart is the UK's largest manufacturer and supplier of professional vehicle cleaning products to the trade. The Autosmart Mobile Showroom Business customer base is large and varied. For example, thousands of car dealers, hauliers, valeters, mechanics, taxi firms, bus companies and plant companies all use their products every day.
Autosmart develop and manufacture all of their own products and distribute them exclusively through an international network of Mobile Showroom Business owners. Autosmart has been helping Autosmart UK Franchise owners to make a success of their Mobile Showroom Businesses for over 30 years, making it one of the longest established and most experienced franchisors in the UK.
The Autosmart UK Franchise currently has over 100 Mobile Showroom Business owners in the UK and Ireland and many more overseas too. They aim to have a long term, profitable business relationship with their franchisees. In fact, 70% of Autosmart UK Franchise owners have been with Autosmart for more than 5 years, and half of these for more than 10 years.
Autosmart's successful Mobile Showroom Business model has been recognised by the BFA several times in the past ten years. 2012 was a double victory year for Autosmart, winning both bfa HSBC Franchisor of the Year and then Autosmart franchisee Keith Ellwood also scooped the 2012 bfa HSBC Franchisee of the Year Award. This is Autosmart's 6th top award from the bfa in the last 8 years. The Autosmart UK Franchise were a Bronze Winner at the 2010 Franchisor of the Year Awards; in 2008 they were named Franchisor of the Year, and in 2005 they won the "Judges Special Award" in recognition of the outstanding support that they give to their Autosmart UK Franchise owners.

Why Become an Autosmart UK Franchise Owner?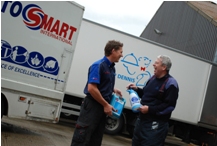 UNIQUE PRODUCTS
Over 200 different products
Autosmart manufacture vehicle cleaners, floor cleaners, hand cleaners and maintenance and janitorial products. The Autosmart UK Franchise research and development team develops all of the Autosmart products and they manufacture them exclusively for the Autosmart UK Franchise owners, at their plant in Staffordshire.
Wide range of equipment & accessories
By offering a complete range, you fulfil all your customers' needs and maximise your profits.
Autosmart UK Franchise: Exclusive Territories
As an Autosmart Mobile Showroom Business owner you are the only person authorised to sell Autosmart products in your area.
Autosmart UK Franchise: Diverse Customer Base
With such a varied product range, the number of potential customers for an Autosmart UK Franchise owner is endless. As well as supplying the car, bike, truck and bus sector, your Autosmart Mobile Showroom Business will also supply customers like factories, farms, caravan sites, offices and even funeral parlours!
Autosmart UK Franchise: Repeat Business
Keeping things clean is an everyday task and customers need to top up their supplies on a regular basis.
As an Autosmart Mobile Showroom Business owner you provide your customers with excellent products, unbeatable service and save them time, effort and money.
Autosmart UK Franchise: Mobile Showroom
Your Autosmart mobile showroom is your shop on wheels!
Your customers can see the full range of products, try before they buy and have immediate delivery with no minimum order.
Autosmart UK Franchise: Ongoing Support and Training
With over 30 years experience, the Autosmart UK Franchise have developed a proven training and coaching system which supports you and your Mobile Showroom Business.
With an Autosmart UK Franchise, support and training is individually tailored to meet your needs and most importantly it is ongoing, hands on and free!
Autosmart UK Franchise: Who Are Autosmart Mobile Showroom Business Owners?
Autosmart UK Franchise owners come from all sorts of different backgrounds - from valeters to bank managers; your background doesn't matter to them.
No sales experience necessary – the majority of the Autosmart UK Franchise owners have never sold a thing before joining the Autosmart Mobile Showroom Business.
They are looking for people with determination, a will to win and plenty of enthusiasm.
To find out more and to request a FULL FREE Information Pack on the Autosmart UK Franchise, the leading Mobile Showroom Business, simply click the button below, now...