Dog Groom UK Franchise
Dog Groom UK Business
Mobile Pet Franchise

Would you like to own an executive Mobile Dog Grooming Salon and take your love of dogs to your customers' front door?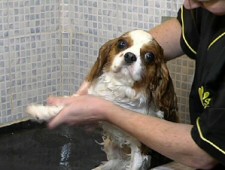 Would you like to build your own Mobile Pet Franchise, earn an excellent income and have satisfied dog owners who value your grooming skills, re-booking you time and time again?
With the Dog Groom UK Business you truly can!
Dog Groom UK are recruiting a quality team of Grooming Partners, offering them:
the BEST training,
the BEST support team,
the BEST image and customer service
the BEST Mobile Grooming Salon.
The BEST State-of-the-art Mobile Dog Grooming Salons
The Dog Groom UK Business features state-of-the-art mobile dog grooming salons, which are specially converted by experts, and ergonomically designed with specialist features, such as a hydro massaging system. They are the best available in the market place today and it makes the whole experience a pleasure for both dog and groomer.
The BEST Training & Support
The Dog Groom UK Business will have the BEST Mobile Grooming Service in the UK because all of their Grooming Partners will have enjoyed three weeks intensive training to enable them to achieve City & Guilds level 2 in Dog Grooming. They will gain experience on grooming up to 8 different breeds of dogs up to the required standard. There is pre-course study and on-going support, with coaching and mentoring to help you achieve the levels of self confidence and skills you will need to offer a professional Mobile Grooming Service to your customers.
The Dog Groom UK Business will take you through their STAR marketing programme, a 6 step process to help you find new customers quickly and then turn them into regular users of your Dog Groom UK mobile service.
The Dog Groom UK Franchise Package
The Dog Groom UK Mobile Pet Franchise Package starts from just £15,995 + VAT and includes:
Fully Equipped State of the Art Mobile Grooming Salon
3 Week Training Course to City & Guilds Standard (inc Accom)
Pet First Aid Course
Personalised Start up Groomer's Kit
Dog Groom UK Uniform
3 Months Supply of Shampoo & Conditioner
12 Months Personal & Custodial Liability Insurance
Your Own DGUK Website Page
Social Networking Sites
Membership to the Pet Care Trust / British Dog Groomers Association
Stationery Start-up Pack
PR and Advertising Start-up Pack
Business & Marketing Training
Advertising & Marketing Support
Annual Conference
You will need around £10,000 of personal 'liquid capital' funding and can expect to borrow around 50-70% of the total startup cost from regular bank funding.
To find out more information about the Dog Groom UK Business, the leading Mobile Pet Franchise, simply click below to request your FREE franchise information pack