World Options Franchise
World Options UK
Delivery Franchise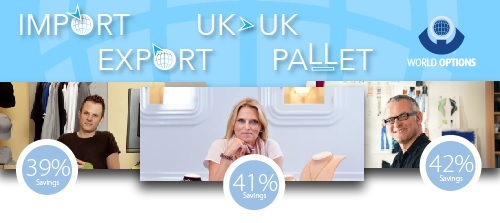 World Options UK is a delivery franchise with a difference. While not a 'van-based' business as such, World Options UK is a smart business that oversees the provision of classic van based services - a courier and delivery business!
Using world-class software to offer solutions across a range of carriers to suit the needs of every business, helping customers to save time and money on all their carriage requirements. As no single courier carrier fits every need, World Options offer a range of cost-saving, individual choices to all businesses through their franchise network.
World Options gives you the tools you need that allow you to offer a wide range of freight and courier options to companies with shipping needs whether in the UK or International via Road, Rail, Sea, or Air.

The industry has been expanding for years and is expected to grow further as the Internet makes the world a smaller place.
Online shopping offers all businesses the chance to have a 'shop window' that the whole world can see. Thanks to logistics firms like World Options UK, goods ordered in the UK can be received all over the world within three days.
"Having worked with the World Options system in the past I am fully aware of the benefits and feel I can sell the service... The reward of working for myself is so much greater than when working for someone else, I would highly recommend it." Mike Lowe - World Options Franchisee
Why a choose a World Options Delivery Franchise?
Lucrative residual income
Value for money - Low entry cost
Complete training
High earnings potential
Dedicated training and support
Non-exclusive franchise – choose where you work
Unique software solutions – offering customers multiple-choice carriers
Minimum overheads

Work from home

World Options UK are looking for entrepreneurial individuals who are highly motivated, willing to work hard and committed to following a proven business formula.
"At World Options it's not just about the franchise fee, we have a finance package available which can remove obstacles for hard working and motivated individuals. Feel free to call and discuss your personal financial circumstances in the strictest confidence, we are always willing to listen and assist the right franchise candidates." Warren Ferguson - World Options Franchise Director
All for the low entry cost of £29,995 + VAT. No stock, no vehicles, no warehouse needed.
Find out more about the World Options UK, the expanding Delivery Franchise. Click the button below now!