Your Plumber Franchise
News
Features
Events
Resales
Your Plumber Business
Heating and Plumbing Franchise Opportunity

SUCCEED AS THE OWNER OF A PROFITABLE HEATING & PLUMBING BUSINESS
The Your Plumber Business is offering you the opportunity to join this lucrative Heating and Plumbing Franchise and to build a multi-van business within in a substantial growing market. This is an ideal management franchise opportunity for those who wish to build a highly profitable and dynamic business.
Owning a Your Plumber Business is ideal for those keen to apply their commercial skills.
This is an ideal Heating and Plumbing Franchise for those looking for a business that:
Succeeds as a premium priced service in a fragmented market
Provides a healthy flow of repeat business and recurring revenue
Has a dynamic and innovative marketing strategy
Serves a large, sustainable and buoyant market
Will utilise their customer service, business development and leadership skills
Involves building a team to serve local residential and commercial customers
The Your Plumber Business:
This is a management franchise and therefore you do not have to be a heating and plumbing expert. Your Plumber provide franchise owners with training and support to enable them to run a busy plumbing business.
The training will show franchise owners how to effectively recruit and manage engineers and contractors, even if they don't know a P-trap from a U-bend.

Franchise owners to need to have:

Ambition
Skills
The drive to build a multi-van 'gold standard' business
The success of Your Plumber franchise owners comes from being passionate about delivering an excellent service, from professional customer engagement and from great business leadership.
What does a franchise owner do?
Franchise owners are resposible for providing heating and plumbing services to homeowners, businesses and landlords from tap washer changes to installing new centreal heating systems and new boilers by building a team of engineers, sub-contractors and support staff.
They manage all aspects of the business, to include:
Conducting surveys (using the Your Plumber winning techniques)
Preparing quotations
Supervising installations
Liaising with customers
Organising the marketing that drives their business forward
Your Plumber Business Support:
Franchise owners benefit from on-going central marketing support. The key to this is harnessing the power of digital marketing opportunities, particularly Google and Facebook.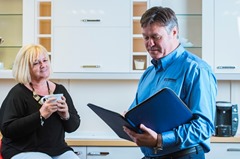 Your Plumber manage a web site that also powers enquiries from customers in each franchise territory.
Professional sales material to help promote the service to new and existing customers also features in the marketing 'war chest'.
Your Plumber provide on-going tuition and mentoring to help ensure that franchise owners are able to deliver a technically proficient service of 'gold standard' quality.
Your Plumber show franchise owners:
How to recruit capable engineers and contractors
How to monitor the quality of workmanship
How to enforce a culture of service excellence
Why choose this Heating and Plumbing Franchise?
The Your Plumber Business is a customer-focused service business that is more professional, better organised and more capable than competitors in servicing customer demand.
Franchise owners do not provide an ordinary heating and plumbing service. For example, they have a Code of Conduct that they actually work to, FCA approval to offer finance packages that help win profitable installation business. as well as:
A bespoke heating and plumbing service contract that provides recurring revenue from secured customers
Administration software that helps maximise business efficiency and service quality
Accreditation as a Which? registered business
The service package that Your Plumber has designed helps franchise owners to be highly effective at meeting the growing demand for a reliable, honest quality service. As a result, Your Plumber franchise owners provide a premium priced service capable of securing a majority share of the local market. The sales and profit potential is significant.
The 'Business Builder' system
This system ensures that a measured approach is taken to getting a Your Plumber franchise to a multi-van level, ensuring the required staff and equipment resources are introduced in an affordable manner.
What's the cost?

The initial franchise fee is £19,950 plus VAT.
Allowing for a van deposit, tools and equipment, initial stock and working capital Your Plumber estimate that the overall investment required will be approximately £35,000.
What's required
Your Plumber franchise owners are motivated by the opportunity to build a market leading service business. They have solid commercial acumen combined with drive, integrity and great interpersonal skills. Experience of managing teams, particularly field staff, is an obvious advantage but above all franchise owners are ambitious people determined to succeed, taking advantage of the help and support provided.
Find out more about the Your Plumber Business, the lucrative Heating and Plumbing Franchise. Click the button below now!