FiltaFry Plus Franchise
FiltaFry Plus Business
Van-based Catering Oil Franchise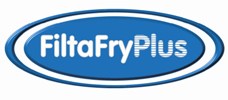 FiltaFry Plus Business: A Proven, Profitable Opportunity
The FiltaFry Plus Business gives you the opportunity to run a successful Van-based Catering Oil Franchise from home based on a proven model. From a single van operation, right through to a multi vehicle operation servicing catering establishments in your territory.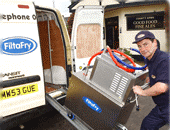 If you have the energy, enthusiasm and commitment to succeed, the FiltaFry Plus Business can train you to become your own boss and receive your true rewards for your efforts in your own Van-based Catering Oil Franchise.
Since its launch in 1996 the FiltaFry Plus Business has become a 'household' name in the catering industry. FiltaFry Plus is extremely proud to provide its cooking oil filtration service to many household names in the catering industry, in many countries throughout the world.
The FiltaFry Plus Business owner carries out the service which comprises of the unique, mobile, on-site micro filtration of cooking oils and the vacuum based cleaning of deep fat fryers. In fact it is best described as a Total Fryer Management Service.
A FiltaFry Plus Business offers fantastic growth potential. Because any type of catering outlet benefits from the service, the FiltaFry Plus Business allows you to develop a huge network of clients in a short period in your Van-based Catering Oil Franchise. And as the service is required on a weekly repeat basis, the income potential is unlimited. FiltaFry Plus offers a full fryer management service, allowing clients to make savings on cooking oil and deliver better quality food.
FiltaFry Plus Business: Huge Market with Virtually No Competition!
With virtually no direct competition, this opportunity is immense. FiltaFry Plus Business owners provide a much needed and sought after service to a wide range of catering establishments including:
Restaurants
Motorway Services
Hotels
Commercial Kitchens
Take-aways
Hospitals
Industrial Canteens
Leisure Centres and Sports Grounds
Schools, Colleges and Universities

In addition, FiltaFry Plus Business owners can capitalise on their ongoing client relationships by offering a range of branded kitchen hygiene products and uniforms. There is virtually no competition in the sector, as the sophisticated technology used is unique to FiltaFry Plus. And as your Van-based Catering Oil Franchise territory already contains thousands of potential clients in need of the service, the rewards are waiting for you.
Could you be a Successful FiltaFry Plus Business Owner?
You already understand that self employment is the key to true success. You already know that spending more time doing the things you love is the key to happiness. And you already feel a need to take control of your own destiny and reap the rewards you deserve.
A FiltaFry Plus Business presents a fantastic opportunity for achieving everything you want out of life. By offering a unique and in-demand service to the catering industry, you will have access to thousands of potential customers on a repeat basis. The FiltaFry Plus Van-based Catering Oil Franchise model has been proven over 10 years, and with a rapidly growing market, the potential for expansion is immense.
The only experience you need is life experience - experience that has brought you to the decision to make a change, to seek new challenges, and to love the work you do.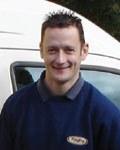 Case Study - Oxford Franchised Technician Steve Edwards was initially attracted to the FiltaFry Plus business by the exclusivity of the Oxford territory and the fact that it is based on weekly repeat visits. Servicing 45 customers per week, which equates to a weekly income of around £1,400, he is enjoying a more fulfilling and relaxed lifestyle than he did employed as a pharmaceuticals stock taker, and has now taken on his first employee allowing him to take his business to the next level.
FiltaFry Plus Business - For people who understand that working smart is better than working hard.
FiltaFry Plus Business: Training & Support
The FiltaFry Plus Business training course is broken down into 3 integral parts covering all aspects of the Van-based Catering Oil Franchise:
4 day residential course at Rugby covering administration, business management, health and safety, good frying practice, how to develop the business and operations.
Up to 5 days 'in-field' training with an experienced FiltaFry Plus Business owner carrying out the service to ensure that you are both competent and confident in providing the highest level of service to your customers from day 1
5 days with a Business Development Manager in your territory to help establish a solid base of regular customers. When not working with you the Business Development team will always be available to help and advise on the ongoing development of your Business.
The support is further enhanced by the Company's on going commitment in securing approval from major multiple groups and National accounts such as INITIAL CATERING, and COMPASS/GRANADA.
The FiltaFry Plus Business is both proven and simple to operate. For the right person, the FiltaFry Plus Van-based Catering Oil Franchise can provide an extremely lucrative opportunity in a huge and growing market place.
To request a FREE Information Pack on the FiltaFry Plus Business, the leading Van-based Catering Oil Franchise, simply click the button below, now...