From Houses to Cars... Paul Brimelow owner of Revive! Crawley
Paul Brimelow, 29, became owner of Revive! Crawley in 2008 at the beginning of the credit crunch. He'd just spent five years as an estate agent.
How and why did you get into franchising?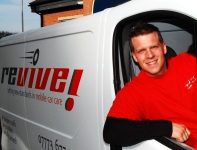 After I left school I floated around doing all sorts of jobs for five years. I had five GCSEs, and was good at practical things. I started off as a trainee sign maker, worked for Curry's selling electrical goods for a while, and then became a holiday rep in Majorca.
In 2002 I returned home to Crawley and became an estate agent. I joined as a junior negotiator and by the time I left five years later I was running my own branch office.
In 2008, there was a lot of talk about the impending collapse of the housing market and I thought it might be time to move.
I'd always had half an eye on running my own business and me and Stacy toyed with the idea of opening a sandwich bar or a café.
We did a lot of research. Then Stacy got pregnant, so suddenly the hours became important – and the fact that I'd probably be working alone. It was too big a risk to go into the catering business that we didn't really know. So we started looking at franchising.
Why did you choose Revive!?
We went to the franchise show at Olympia with an open mind and began by checking out the food-based sector. But the capital outlay was prohibitive – some of the businesses carried £90,000 start-up costs which was way beyond our budget.
We were about to leave when we came across Revive! The Managing Director Mark Llewellyn seemed like a nice guy. It was a management franchise with a business model of establishing five vans in a wide territory. I liked the idea that this was something I could grow.
I went to see Mark Llewellyn in Rugby and liked what he had to say. He was very friendly - there was no falseness. I checked out a few of the other Revive! franchisees and they all had positive things to say. Everyone was very supportive.
All I had to do was pluck up the courage to go for it. The credit crunch helped me make up my mind – I had nothing to lose. As it turned out, I got out of the housing market in the nick of time.
How did you get started?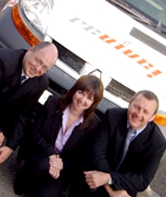 The training with Revive! was brilliant. I spent four weeks on an intensive training course in Rugby in the summer of 2008 when they lined up lots of cars for us to paint. Then in the fifth week Revive! sent a trainer back home to Crawley with me and showed me the ropes in what they call 'launch week'. We set up appointments with the local dealers, told them what we do, and did a demo job in the hope of getting regular work.
It was a great way of getting started – a real confidence-building exercise.
How's it going?
It's been amazing. The work came flooding in and one year on, I'm in line with my expectations. My plan was always to grow an extra van every year for five years, but I got my second van after only nine months. It was a no-brainer – I was working flat out for six or seven days a week, taking bookings for weeks in advance, and losing work because the wait time was too long. I had no choice but to expand. Finding someone to join me was easy – he's my brother Neil.
What's it like working with your brother?
Working with my brother Neil was a good solution to my work overload. He's two years younger than me (27) and we've always been good mates. He was working at Gatwick airport as a courier driver and was interested in coming on board. He didn't have any experience of painting and I had to train him myself, but I needed someone I could trust.
As he's family, I didn't have to spend years getting to know him. And as I'm the older brother, he doesn't have a problem with me being the boss. Not that I boss him about - it's about mutual respect.
Our mum and dad are really pleased – mostly because I'm making a decent living and don't need to go back and live at home with them with a wife and baby.
Our third brother is a fireman.
Would you recommend a Revive! franchise?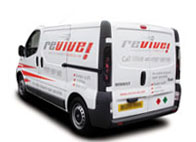 I'd definitely recommend a Revive! franchise. The training is very good and I felt pretty confident after a few weeks. It gives me the best of both worlds: I operate completely on my own, arrange my own advertising and marketing, and manage all my own clients. At the same time there is always someone on the other end of the phone if you need support. They don't give me aggro. They do give me good back-up.
What are your highs and lows?
The toughest time was in the first few weeks when I was still struggling to get work. I was used to having a salary land in my bank account at the end of every month. Suddenly I'd look at an empty diary on a Monday morning and realize that if I didn't go out and make business happen, we wouldn't eat, and we might lose our house. It was a scary thought.
The best moment so far was when I went to the Revive! annual awards ceremony and won the prize for Outstanding Sales Achievement. Getting the thumbs-up from the company was a great motivator. You need that when you're working alone. The best change in my life is that suddenly I'm popular! When you tell people you're an estate agent, they groan. Now when I tell people I fix cars, they love me to bits.
What advice would you offer to others thinking of taking on a franchise?
Do your research. Look at the websites of all the companies you might be interested in. Talk to the other franchisors. And go with your gut feeling. Be wary of companies that offer slick presentations but little else. I went to one company which gave a very slick presentation with tea and sandwiches, but I felt I was being sold to, not consulted with.
Make sure your chosen company is a full member of the British Franchise Association.
And finally, check the size of the territory on offer – with Revive! my territory is 400,000 people which gives me lots to go at without having a competitor from the same company fighting for the customers on my doorstep.
If you'd like to find out more about achieving self-employed success with Revive! then click below