From Travelling to Tyres.... Byron Lindsay, owner of Revive! High Wycombe
Byron Lindsay, 34, became owner of Revive! High Wycombe in 2008. He'd just spent ten years travelling the world in the commercial laundry business and decided it was time to put down some business roots closer to home.
How and why did you get into franchising?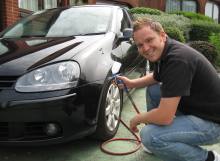 When I left school at the age of 15, I got an apprenticeship as a motor mechanic and spent seven years fixing cars. I then took a year out to go travelling to Australia.
When I got back I landed a job in mechanical engineering installing monorails in laundries. It took me all over the world for the next ten years, to fantastic places like Vancouver, New Zealand and Malaysia.
I'd spend four to five weeks abroad, working seven days a week. It was a great life for a single man, but it's not good for family life. So when my partner and I decided we wanted to see more of each other, I started to look at alternatives.
I'd been used to supervising teams and had a lot of freedom. I thought it would be hard to go from that to working for someone else who might not have had much experience of life.
I'd read about franchising and had toyed with the idea of going into the mobile tyre fitting or mobile locksmith business. I'd been earning good money and the only way I was going to keep that level of income was to work for myself.
I went to the franchise exhibition at the NEC in Birmingham and that was it. Here was something that offered me the freedom to be my own boss and the support network that comes from being part of a big organization.
Why did you choose Revive!?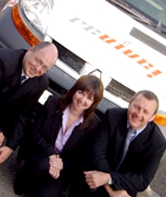 I looked at lots of options at the franchise exhibition at the NEC. Revive! just clicked. They seemed to fit everything I was looking for. They weren't in your face with marketing.
The MD Mark Llewellyn was there and was very impressive. He is the eternal optimist – he's been there and done that himself and knows what he's talking about. With someone like that at the top, it makes a big difference to the way you view a company.
They offered good training, solid back-up, a friendly face, and it all seemed to fit.
How did you get started?
The training with Revive! was very good – and very real. I know I'd spent seven years in the motor trade, but all I knew was engines - I'd never picked up a spray gun.
We started off in the factory in Rugby, learning the basics for two weeks. Then in the second two weeks we went out on the road for real. It was really comprehensive, with a very patient trainer.
In the fifth week, I came home with an expert from Revive! to help me get things off the ground. It was a Bank Holiday week which didn't help – everyone was away and we only had four days to play with, but we still made money and picked up some good business.
How's it going?
The recession hasn't been a problem. The work's kept coming in and after one year, I've just bought my second van and taken on a chap to help me. He's got experience in a body shop, so he doesn't need a lot of training.
My plan is to get three vans in five years and see what happens next.
Would you recommend a Revive! franchise?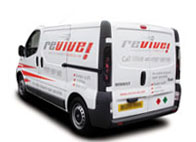 I'd have no hesitation in recommending Revive! to anyone who wants to take on a franchise. I've already convinced one person to join the company – I was going to take him on to help me, but he was so impressed in the job interview that he decided to become a franchisor himself.
If you want to go into the Smart Repair business, you'd be hard-pushed to find a better company. It provides good training and great back-up. The Revive! family is good – we meet up once a year. As a franchisee, you're independent but never alone.
What are your highs and lows?
The best bit about being a Revive! owner is when everything goes absolutely perfectly and you over-achieve for a customer. He comes out to look at your work and is totally amazed. I get a real buzz out of that.
There aren't many low times but the weather can be a bit of a burden. You can't work in the dark, or the rain.
Not being able to take a holiday is difficult, but that should become easier as the business becomes more established.
What advice would you offer to others thinking of taking on a franchise?
If you are serious and want to put in some hard work, go for it. You'll get out of it what you put it. And it can be fun.
If you'd like to find out more about achieving self-employed success with Revive!, click below
What

Our Franchisees Say

The fact that head office does the accounts and administration for me is really helpful. Also Revive! has a national website where I get a lot of my leads from.Dan Normanton

Having worked with the Revive! team for a little time now, it is great to know that there is always someone at the end of the phone to help with technical support or just general advice of how to continue developing my business.
Why

Choose Us

Revive are the first full member of the British Franchise Association in their industry sector.

Revive! are the first company in the Smart Repair sector to implement the use of Water Based paints ahead of legislation that will restrict the use of environmentally damaging solvent based paints.

The Revive! Directors have many years experience in the Smart Repair sector and two of the Directors run their own highly successful Revive! franchises.
Related

Franchise Categories
Related

Franchise Types