Through 'Baptism Of Fire' Riverford Organic's Newest Franchisee Stays Cool as a Cucumber
33-year-old, dad-to-be, Jim Harbridge has stepped into a new life with Riverford Organic.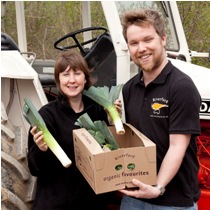 One made up of vans, veg boxes and organic food. Just three weeks into his 'fledgling' business (a fully developed franchise bought from his predecessors), he has to complete no less than 13 delivery rounds in a week, learn the names of streets he never knew existed, and greet hundreds of people he's never met before – his customers.
"It's a big change from working in marketing and PR, and certainly hectic at the moment," says Jim. "But it won't always be like this. It's just that all of my drivers decided to go on holiday at the same time…just when I started! The great thing is, I'm getting to know the rounds. And although that means working from dawn to dusk, I'm out and about and learning fast."
Jim, who has never run his own business before, and who didn't know anything about franchising either, considered buying the Riverford Organic Portsmouth territory when he heard that the previous franchisees were ready to sell.
"Paul and Sue had been running the business for seven years before I took over," says Jim. "For five of those years, my wife Anna and I were loyal customers, getting our weekly veg boxes delivered by them. We loved the quality and taste of the food, and we'd found Riverford to be a forward-thinking company – always introducing new products and services, including my favourite…the barbecue box with organic cider and burgers! "We've always loved Riverford's products and excellent delivery service, but never dreamt we'd end up investing in the company. And when we found out that Paul and Sue were selling up and going travelling, we were presented with an opportunity that was too good to miss."
Since negotiating a price for the franchise with Paul, Jim has been through a comprehensive training programme at Riverford's head office in Devon to learn about running his organic food delivery business from the ground up. He also went out on the road with Paul to get to grips with the rounds and meet some of the customers.
"It's been a year since we first talked to Riverford about our interest in the Portsmouth area," adds Jim. "And now, here I am, three weeks in, bombing about, making hundreds of deliveries and waiting for my drivers to come back from their holidays. And when they do, I can start taking things to the next level. "It's been a major transition from working in an office full-time, for somebody else, to being out and about on my own. But I'm excited about the future and enjoying the flexibility of being my own boss. Jim also feels that when things settle down, it will mean more quality time with his family.
"Anna and I have our first baby due in August," he says. "It's been a lot for us to take on in relatively short period of time. For us, buying this business takes us one step closer to achieving the work-life balance we desire.
"Now, instead of being stuck in the same office all day, leaving home at 7am and getting back at 7pm – which is what my life used to be like – I'm able to drive around, meet different people, and nip home when I want without having to ask permission. It's true that I'm working longer hours than ever at the moment, but things will improve once I settle into a steady flow. "One thing I can say is that I'm looking forward to running a family business, doing something I'm passionate about, and being a key figure in my local community."
To find out more information on Riverford Organic Franchise simply click below
What

Our Franchisees Say

Even during the toughest of times I don't think I have honestly ever regretted taking on my Riverford Franchise.Jim Harbridge, Portsmouth Home Delivery

Riverford franchisees have a level of independence that means we feel supported and not restricted.Liz Sowden, Dorking & Horsham Home delivery

It feels good to be investing in a company that has such a strong code of ethics and isn't all about making more money.Jo & Phil Limb, North Devon Home Delivery
Related

Franchise Categories
Related

Franchise Types