Ex-high powered salesman starts new life with Riverford Organic
Investing in a new business is a big step. But going from long-term employment to buying and running an established franchise could be considered a leap of faith.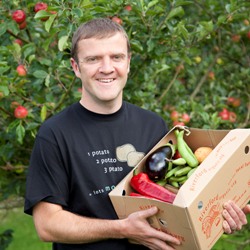 Ex-high powered salesman, Matt Falkner opted for the leap and, with wife Jane, re-mortgaged the family home in order to buy Riverford Organic's Exeter veg box delivery franchise. With a ready made 1,800-strong customer base, three experienced drivers to manage, and organic food distribution logistics to get his head around, the 37 year old had set himself on an exponential learning curve. Here he talks about how, with support, he's broken the back of his new business and is already planning for growth.
Says Matt: "My wife Jane and I had been living and working in London for ten years. When we had our daughter, Alice, two years ago, it changed the shape of our lives, and we decided to move back to Devon to be closer to Jane's family. We had to sell our London flat and leave our city-based jobs, so there were some major considerations for us as a family. Jane managed to secure work in her profession as a chartered surveyor, but I couldn't find any positions in Devon equivalent to the Sales Account Director role I'd had in London. Things were good for about a year – I took over the childcare and got to spend a lot of quality time with my daughter – but then I started to feel the need to do something more with my career. Jane knew I was thinking about running my own business but we'd never talked about investing in a franchise. Jane was actually looking on Riverford's site to order a vegetable box when she stumbled across the franchising section.
From customer to investor
"We'd been Riverford customers when we lived in London, and had used their veg box delivery service for years, so finding out about the opportunity right then was fortuitous. I was genuinely excited about the chance to run my own organic food delivery business, and got in touch with head office. At the time, the nearest franchise for sale was in Exeter – an established territory with 1800 active customers – and that was the territory we invested in.
"We financed the business through some savings and a mortgage on our house, which we'd owned outright, so using existing capital and debt was another big decision we had to make. On top of that, I discovered that buying a business from a previous franchisee is more complex than investing in a virgin territory because there are more people involved, and there's more due diligence to undertake. On the plus side, you have a ready-made business that's already generating revenue and profit through its existing customer base, and once all of the paperwork has been sorted out you're making money from day one.
Fresh furrows
Since becoming a Riverford franchisee, I've had to adapt to a completely different outlook on work and life. As an employee I had a single fixed role within somebody else's organisation, but now I'm everything to the success of my own business. Every decision is mine and I have to deal with the outcome, whatever it is. On top of that, as an employee you wear a single hat, but running a business means that you have to wear a number of hats: you're part accountant, part marketer, part IT, part logistics – there's a lot to take on board.
"It's impossible to know exactly how making such a key life change will impact you, but talking to Riverford's team in the early stages certainly helped prepare me for the gear shifts: from employment, to unemployment and child minding, to purchasing and running a fully established veg box delivery business, Riverford's staff have been on hand to give me advice when I've needed it most. Now I'm through that period, my focus is 100 percent on growing the business.
Marketing for growth
"I've been spending a lot of time on customer service to ensure a transparent transition. I'm also organising advertising and marketing campaigns, pushing sales and targeting businesses in the area. I'm already at the stage where I'm looking to bring somebody into the office on a part-time basis to take care of admin and handle calls so that I can focus on increasing sales and getting new customers.
What's useful is that the other franchisees I speak to, who have got much more experience than me when it comes to knowing which advertising channels work the best, give me help and tips to make sure I won't waste money trying things out. If they tell me that something doesn't work, I won't do it. It's another benefit of being in a franchise network.
Harvesting customers and growing profits
To grow this business you really need to get out and do as many shows as possible, and it's fortunate that I enjoy them. They allow me to gain visibility at the local level and to push the brand from the front. My predecessor wasn't attending shows, so I knew there was an area where I could improve on the growth and profitability of the business straightaway.
In a year's time I'd like to be up 3-5% on year one, which I think is a realistic figure. Anything above that will be a bonus. Every time you sign up somebody new, it's a real buzz. I aim to get 1,000 new customers in the next year, so if I do 30 shows and acquire 30 people at each show, I'll have almost achieved that – and of course, not all new customers will come from the shows, which is even more positive.
Final Word
I'm now ready to build on the foundations I've got, which means making sure my existing customers are happy, while also working hard to get new ones on board. Currently, we're making around 800 deliveries a week, which will increase going into Christmas.
Being a Riverford franchisee is hard work, but satisfying. I'm working for myself, and I'm my own boss, but I still have the support of an established and recognised network with a wealth of experience, and a strong stance on ethics. I'm looking forward to seeing my new investment coming to fruition.
To find out more information on Riverford Organic franchise just click below