A successful relocation for Matthew & Sabrina Carter
Riverford Organic Farmers Ltd deliver seasonal, organic produce to homes across the UK via their network of franchisees. Husband & wife team, Matthew & Sabrina Carter, purchased the Hereford & Worcester Riverford Home Delivery franchise in September 2015. Here they tell us why they chose Riverford and how their first year has been: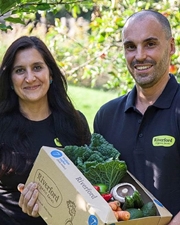 We chose Riverford because we desired the freedom of being self-employed, however, neither of us had run a business before so we felt that a franchise would give us the support we'd need whilst learning the ropes.
As long term customers ourselves, we felt that Riverford's ethos of providing high quality organic food, whilst supporting local growers and producers and playing an active role in communities, was consistent with our own values and something we wanted to be a part of.
Before taking on our franchise, I (Matt) was an IT contractor whilst Sabrina was a picture editor at the media company where we both worked and met. We were both based in London and had been considering a relocation for some time. We spotted the franchise page on Riverford's website and made an enquiry.
We're both very active people who love the outdoors. Cycling and walking are our passions so when we saw that the Herefordshire & Worcestershire franchise was up for sale it seemed like the perfect location.
Following the application process and being approved, we had a very comprehensive week of training at Riverford's head office, Wash Farm in South Devon. We then spent a significant amount of time with the out-going franchisee conducting work experience and getting to know the business and the area.
The biggest challenge for us initially, being in a rural territory, was finding all of our customers' homes! Once we became familiar with our territory it all became a lot easier and we soon got to grips with the daily routines.
Our aim when first looking to run our own business was to avoid the daily monotony found in a lot of jobs and just over a year on, we feel we accomplished this. We don't really have a 'typical day' at work now. Some days we are both out on deliveries, others we are at home responding to customer calls and emails and dealing with the daily office admin. When not out delivering or in the office, we are out and about at various events promoting the business.
We're very pleased with our performance in the first year. As well as maintaining our loyal customer base, our new customer numbers have grown significantly and is currently one of the strongest, year on year, performing territories in the franchise network.
We've found that the most effective way to grow our business and engage with people has been to attend as many face to face events as we are able, such as local food festivals or community gatherings. This has provided a great opportunity to meet existing customers and of course, the opportunity to encourage other people to give us a try and to start regularly ordering with Riverford. As a direct result, we've seen a steady stream of new customers week on week. We've built relationships with our customers, advising them we sell more than just vegetables, which has boosted the average spend as they've become more familiar with the 300+ products that we sell.
Running our own business has been a challenge but one we've enjoyed very much. We're lucky that we were able to choose a territory that suited our needs and lifestyle.
Relocating from London was a big decision for us, however we've enjoyed our time in the countryside. Working together has been great and we've used our individual skills to make the business work for us; Sabrina as the social media and PR whizz, whilst I've enjoyed the customer service side.
Despite the success and enjoyment we have experienced, we've recently decided to sell our business and relocate again. I plan to further my education in the field of environmental policy and Sabrina would like to find employment in the communications sector for a non-profit organisation. We feel that our business is one that somebody could further develop and take to its full potential. We hope our second relocation will also be rewarding and successful.
Find out more about the Riverford Organic franchise by clicking below
What

Our Franchisees Say

You need to love the product or the business you are promoting. If you don't subscribe to that, you can't inspire others to feel the same way.Fiona Littleton, East Manchester Home Delivery

Even during the toughest of times I don't think I have honestly ever regretted taking on my Riverford Franchise.Jim Harbridge, Portsmouth Home Delivery

Riverford franchisees have a level of independence that means we feel supported and not restricted.Liz Sowden, Dorking & Horsham Home delivery
Related

Franchise Categories
Related

Franchise Types