Meet Huw James, Owner Revive! Reading
Huw James, Owner Revive! Reading
Age: 45 yrs old Launched franchise: February 2010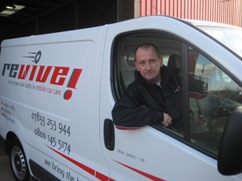 Huw James decided to take a leap of faith and set up his own franchise, after working in procurement and logistics for over 15 years.
Huw: "I was sick of being Victor Meldrew at home! I was always stressed and didn't seem to have enough time to spend with my kids. My wife Diane is a solicitor so if she gets held up in court its down to me to look after them and pick them up. I needed to find a job that offered me more flexibility."
Huw had always fancied being a mechanic and even embarked on a City & Guilds Motor Mechanics course at a Technology College when he left school.
"Unfortunately I didn't complete the course. I was offered a job in IT that offered much greater earning potential so I left, but I've always had an interest in cars."
What was it that appealed to you about franchising?
"I wanted to be my own boss, but I didn't like the idea of being out there on my own. Franchising offered me the opportunity of ready-made networking and support, and access to the market straight away."
Why did you choose SMART repair as a business?
"Because of my long held interest in cars I definitely wanted to work in the motor industry, so I did some research, mainly via the British Franchise Association website.
"I'd seen a SMART repairer at the road side once and I thought 'that's what I'd like to do' so I got the details of all the SMART repair franchises and started contacting them."
Why did you choose Revive!?
"I went to visit them and they were by far the most positive and friendly SMART repair franchise that I had seen. There was a nice family feel about the company. I liked the fact that they didn't pressurise me at all. They gave me plenty of space to make my own mind up."
"The 10% royalty set up is really good. A lot of the other franchisors don't seem to care how you do but with Revive! you know that if you do well they do well, so everyone is working towards the same goal. I get about 25% of my work through national accounts."
What do you think of the training and support offered by Revive!
"The initial training was very thorough and they covered every aspect of running the business. During your first 'launch' week you also have a trainer there by your side.
"The ongoing support is fantastic. Sometimes you just want to check something or ask some advice. It's great to know there is always someone on the end of the phone and they are very patient. The trainers used to do the job so they understand the challenges."
What is the most challenging aspect of the job?
"You're working with people's prized possessions and you're very aware of that. My first job was a Porsche 911, which was quite daunting but I just took a deep breath, applied the techniques and skills I'd learnt in my training, and it was fine.
"Revive! offers such a professional service and its good to know that their training, equipment and products are of the highest standard."
Would you recommend Revive! to other potential franchisees?
"Absolutely! I would have no hesitation in recommending Revive! to other people who were interested in working with cars."
To find out more about Revive! click below
What

Our Franchisees Say

Having worked with the Revive! team for a little time now, it is great to know that there is always someone at the end of the phone to help with technical support or just general advice of how to continue developing my business.

The fact that head office does the accounts and administration for me is really helpful. Also Revive! has a national website where I get a lot of my leads from.Dan Normanton
Why

Choose Us

Revive are the first full member of the British Franchise Association in their industry sector.

The Revive! Directors have many years experience in the Smart Repair sector and two of the Directors run their own highly successful Revive! franchises.

Revive! are the first company in the Smart Repair sector to implement the use of Water Based paints ahead of legislation that will restrict the use of environmentally damaging solvent based paints.
Related

Franchise Categories
Related

Franchise Types