Ryan Lythe is motoring ahead with ChipsAway
Only four months after his 'fantastic' launch with ChipsAway, the UK's leading brand in mobile automotive paintwork repairs, franchisee Ryan Lythe is still amazed by the runaway success of his business.
He's already actively looking for premises to set up a ChipsAway CarCare Centre (a fixed-base workshop) and plans to take on an employee to help him manage the rapidly increasing demand for his services - fixing minor damage such as scratches, bumper scuffs and kerbed alloys within a matter of hours and at a fraction of the cost of traditional body shop repair methods.
"When you first think about leaving the security of employment to start your own business, obviously a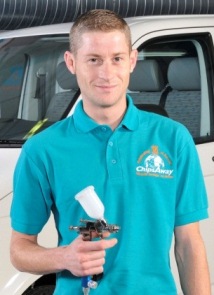 big question in your mind is whether there will be enough work for you to pay the mortgage and cover the bills" Ryan says. "If someone had told me that within four months I'd have no worries at all and would actually be looking to expand, I'd never have believed it."
For eight years previously, Ryan worked in the construction industry driving heavy plant. He worked long hours and had become increasingly unhappy with his lifestyle - until one day he was asked to help with spraying one of the diggers. "I absolutely loved it" he recalls. "I considered going back to college to re-train, but decided that I simply couldn't afford not to work.
Then I spotted an advertisement for ChipsAway and it seemed to offer the perfect opportunity for me. Accordingly, I arranged to attend an Open Day and in the meantime read everything I could lay my hands on about the ChipsAway franchise. It all seemed great – almost too good to be true, but, everything ChipsAway promised has turned out to be spot on."
Over his launch weekend, Ryan generated estimates worth £10,000, and took sufficient bookings to guarantee his first two weeks of work. Thereafter, he continued to enjoy a stream of new business, booked in as a result of leaflets he'd given out at his launch. "Since then, I've been constantly busy with a full diary at least a couple of weeks ahead" Ryan confirms. "I don't like to keep customers waiting any longer than that, so to take my business to the next level, I need another pair of hands.
Now I'm seeing more work coming in from word of mouth recommendations and repeat business from established customers, as well as the regular leads I receive from the ChipsAway National Call Centre. The more I get known locally, the more the phone rings and with every month that passes my income goes up – honestly, it's absolutely brilliant."
Ryan says that he's holding back on local advertising until he's sufficiently geared up to cope with the further influx of new business that will it certainly bring. He adds that he has enjoyed excellent support, not only from his Franchisor and Business Developer, but also from neighbouring franchisees, who are ready to offer advice and practical assistance.
"I'm not at all nervous about investing in premises or an employee" he states. "I know that if I follow the business model and rely on ChipsAway's continued support, I can easily grow my business. I just can't believe I've come so far so quickly – I wouldn't change my lifestyle now for anything in the world. For the first time ever I look forward to going to work, my days fly by and I get paid every day by delighted customers for doing a job that I love."
ChipsAway has over 350 specialists in successful operation across the UK and a network of Master Franchisors worldwide. Operating from professionally liveried, fully equipped mobile workshops and fixed-base CarCare Centres, ChipsAway continues to dominate in the 'on-the-spot' repairs sector, yet, with 34 million cars on the road and over 17 million repair opportunities each year, ChipsAway estimate that they currently only meet 3% of potential market demand!
To find out more information about the ChipsAway Franchise click below

What

Our Franchisees Say

I'm absolutely thrilled with the way my business is going. I wanted something flexible, that was not massively expensive and which had the potential for growth. ChipsAway fit the bill and has proved to be everything I'd hoped for. 'It does what it says on the tin', and if you follow the business model you can't go wrong!Andy Cornell, franchisee since 2011

I could see the flexibility of ChipsAway's business model would work for me. Working for myself as a franchisee is a world away from my life before.Neil Dobson, franchisee since 2013
Why

Choose Us

Brand Leader - ChipsAway is the UK's leading minor automotive paintwork repair brand

Fantastic earnings potential - Many franchisees achieving in excess of £80,000 pa, some turning over £300,000 pa
Related

Franchise Categories
Related

Franchise Types