Husband and Wife make top team in franchise venture
Barry and Tracy Goodman-King own and operate the Apollo Blinds Chester franchise, having joined the business in 2018.
After facing redundancy from his long-standing career as a sales and marketing director in a national soft furnishings business, Barry faced uncertainty with a lack of decent opportunities in the corporate world. Relishing the chance to work independently and wanting to use the skills he had acquired over his 20 years in the industry, he sought a franchise business within the interiors market, backed by a brand whose ethos and ambition matched his own.
Barry says: "After 20 years in the corporate world climbing the ladder, when the time came to make a change, I couldn't imagine going back to reporting to someone else when I'd been used to autonomy. I wanted to map my own path, and it was now or never.
"With the money I received from my redundancy, we started looking for soft furnishings retail businesses initially, but the outlay was high and the high street is a difficult place to be right now – it was too risky for us. So we looked into franchise businesses in a similar industry, where there was more support and backing – a business where you could get help and guidance getting it off the ground, as well as take advantage of an established brand presence.
"Apollo Blinds stood out from the competition: their customer-focused ethos and approach to looking at the whole customer journey really resonated with me. It's about quality over quantity, and their products were more premium than many on the market – it just felt more professional than other brands in the space."
Barry and Tracy began their journey with Apollo Blinds by covering Shropshire and soon had the opportunity to open a second franchise in neighbouring Chester to capitalise on the demand. Tracy eventually joined the business full time, leaving her previous management role in a property lettings company.
Tracy adds: "It's the best move we've ever made. It was a bold move for us to both leave the safety of employment – we're now working harder than we ever have, but it's for ourselves. We reap the rewards, and we can have true work–life balance, which for me was the most important thing.
"Family commitments can be factored into our working day – my nan has Alzheimer's and dementia, and she needs my support. But I get to take her out every week for lunch, as I can fit my work around my family. I can walk the dog twice a day, and we can take holidays when it suits us. That's priceless to me.
"Both Barry and I are now working to the same end – our goal is shared. We keep each other motivated and use our different strengths to drive the business forwards."
The husband and wife duo offer sound advice to those looking to explore a franchise business.
"Do your homework. Research the opportunities that spark your interest, and don't just rely on the information provided from the brand – look at market reports and do some competitor shopping," says Barry.
"I think it's important to make sure the company fits with you as well. Apollo Blinds is a very customer-focused business, so you have to be personable and able to get on with most people. It's also about having an eye for design and what would look good in someone's home – customers will rely on you for advice and guidance. It's not just about functionality but form as well. Apollo has the biggest selection of fabrics, products and finishes available in the UK, so guiding customers through their options is key. The training from Apollo is fantastic, but it has to interest you and you have to enjoy it."
Tracy adds: "Financially, we made sure we had a safety net before making the jump. We had a pot to cover the mortgage for six months just in case, as you don't know when you start out what the income will be initially. And you will have quiet months – months where your plans don't bear fruit, so having that back-up will ease the sleepless nights.
"Also take it in stages. You don't need a dedicated office or a showroom right from the start – you can build up to that. Don't make big changes before you know what you're dealing with. The scalability of Apollo was something that we really liked. There was potential to grow with minimal initial outlay.
"You have to wear lots of hats when starting out – admin, HR, accountancy, sales, marketing, fitting, customer service and IT. Although the support from the brand is great, success isn't handed to you. You have to take the tools you are given and put them to work.
"It takes hard work and dedication to get something off the ground – franchise or not – but don't let it be all-consuming. It can be hard to switch off from thinking business 24/7, but the reason we did this was to have more work–life balance, and sticking to that is key."
Find out more about the Apollo Blinds Franchise opportunity by clicking below now!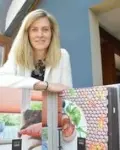 From the Boardroom to the Dining Room
Nicola went from the boardroom table to her dining room table to start her own business from home, and she's never looked back.
What

Our Franchisees Say

I chose Apollo for its wide range of quality products and support structure. I have access to some products that none of my local competitors have. The business is as profitable as you want it to be. I am now making a better living than I ever have, and the best thing is that I can choose how much work I take on.. It may not make me a millionaire, but I have a great work–life balance.Andrew Micklewhite from Apollo Blinds Cardiff

A franchise was the perfect platform for me because I have access to products that none of my competitors have. This has allowed me to achieve high order values because I'm selling and installing high-quality products. I simply couldn't have afforded to go it alone and set up my own blinds business from scratch.Peter Stephen from Apollo Blinds Newcastle & Tyneside

No two days have ever been the same in the 24 years I have been with Apollo Blinds, and that is why I'm still as passionate about it as I was when I first started. The best part of what I do is helping my customers to find the right blinds for them. I love going into customers' houses and making recommendations and then seeing the thrill on their faces when their blinds are installed.Amanda Hannan from Apollo Blinds Glasgow Shawlands
Why

Choose Us

A four-day dedicated induction training programme

lots of more-practical support

A team of skilled experts are available to provide one-to-one support every step of the way in building your business.
Related

Franchise Categories
Related

Franchise Types