4 Reasons I Chose A Revive Franchise
Paul previously worked as an estate agent and worked his way up to the position of branch manager. As the worldwide recession hit and effected property sales Paul wanted a new career but instead of changing jobs decided to take command of his own destiny by becoming a Revive! franchisee. Here he talks about his experience.....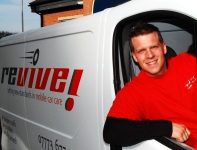 "I reached a senior position in the business and it was difficult to progress further. This, coupled with the slowdown in house sales made me look at other opportunities and I had always liked the idea of working for myself."
"My wife and I liked the idea of opening a sandwich shop or cafe but as we have just recently had a baby we thought that it would put too much strain on the family. I then looked at other businesses and visited the Franchise show in London."
"I have always been interested in cars and am very passionate about customer service so the SMART repair sector seemed an ideal fit. I met Revive! and they clearly stand out in terms of their customer service and so there was an immediate affiliation."
What made you chose Revive! ahead of other companies on the SMART repair sector?
"I did look at a number of companies in this sector but Revive! really stood out in terms of whole ethos. I wanted to buy a business I could grow rather than a job and develop with a franchisor who would support me through the challenges of growth."
"It seems obvious that there are a number of companies who present slick sales pitches who have worked hard on their image to sell franchises but Revive! want to work with me to help develop my business!"
"It seems that the whole structure of the Revive! business model supports growth and development, from the size of the territory to the ongoing development. This is quite different to a number of other companies who will take an ongoing fee regardless of the level of my business. I really like the fact that Revive! are bought into my business success and have a tangible reason to help me be successful."
"Having worked with the Revive! team for a little time now, it is great to know that there is always someone at the end of the phone to help with technical support or just general advice of how to continue developing my business. There is always someone available to help out and it is great to be able to have such confidence in our Head Office."
How does the economy affect your business?
"Its really difficult not to sound blasé but I haven't really seen much effect. I have really focused on high levels of reliability and this seems to be the difference between my business and the local competitors. As I mentioned earlier I am really keen to provide outstanding service and reliability and I try really hard to keep my customers happy. Common complaints for my competitors centre around a lack of service and with car dealers often needing cars fixed yesterday, it seems a significant source of advantage to me. A number of dealers talk about the difficulty of selling cars, but to be honest it seems to make them more anxious to get the car preparation right because they feel there are less potential customers. Therefore the car preparation and presentation becomes even more important."
What are your targets for this year?
"I have been in business with my Smart Repair Franchise since August 2008 and am really surprised at how quickly the business has developed. Before Christmas I was in a little bit of a comfort zone, happy with my income but not really pushing for more work. Having come back in the new year with fresh impetus I have already taken on an employee as we are already extremely busy and my only regret is that I didn't take someone on three weeks earlier as the work is starting to stack up and I don't want to let my customers down!"
"Having had such a great start I would like to be in a position by the end of the year that I am ready, or given the start to this year, have already taken on a third employee and van. The prospects of having a 5 van operation is a real possibility and as long as i take a measured approach with the management I believe there are significant opportunities to grow a strong profitable business."
How do you see your prospects for the future?
"It was a great move to leave the estate agency and in hindsight quite fortuitous given the current climate. The interesting thing about the Revive! Smart Repair Franchise is that even in these difficult times our business can provide a cost effective and convenient service. There are lots of businesses that are interested in reducing costs at this time and therefore we are seeing a lot of interest at the moment, not just from car dealerships but from a more widespread audience, from fleet management companies to companies with fleets of vehicles."
"It will be interesting to see how things develop after the recession because with business booming at the moment, if there is more confidence in the car sector and more people start buying more cars again, I imagine we will be swamped with work!"
NB Paul won the Revive! Award for 'Outstanding Sales Achievement' at the companies 5th annual conference in May 2009
Find out more about Revive! franchise by clicking below
What

Our Franchisees Say

The fact that head office does the accounts and administration for me is really helpful. Also Revive! has a national website where I get a lot of my leads from.Dan Normanton

Having worked with the Revive! team for a little time now, it is great to know that there is always someone at the end of the phone to help with technical support or just general advice of how to continue developing my business.
Why

Choose Us

The Revive! Directors have many years experience in the Smart Repair sector and two of the Directors run their own highly successful Revive! franchises.

Revive! are the first company in the Smart Repair sector to implement the use of Water Based paints ahead of legislation that will restrict the use of environmentally damaging solvent based paints.

Revive are the first full member of the British Franchise Association in their industry sector.
Related

Franchise Categories
Related

Franchise Types