A week in the life of a Surface Medic franchisee
Gary our first Surface Medic Franchisee gives us an insight into a typical work week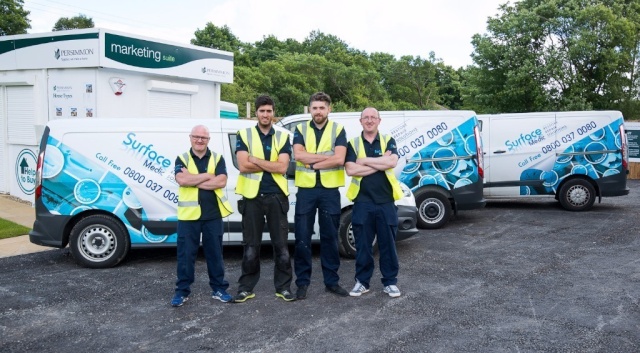 Monday 8am:
Local Builder: I travel to see the Site Manager in the site office and sign in the visitor book. We discussed what I could do and went on a walk around the site. various 'snagging' repairs were pointed out to me and I marked them all with masking tape as we went round so that I didn't forget any afterwards!
9am - 4.45pm
First repair: A chipped worktop. This needed to be filled, but before starting I identified which other repairs might need the same filler and prepared enough for all of them to be done at the same time.
Second Repair: Damaged UPVC Window Frame. Using the same filler this was a quick and easy job.
Third Repair: Scratches to a shower tray, took two hours to complete, then repaired a ceramic sink and vanity unit. Put on two coats of paint and then left to dry while I went for lunch.
Fourth Repair: Master Bedroom door has a big chip in the top corner, I smoothed it off, applied some filler and detail and repainted.
Fifth Repair: Another UPVC window frame. Site Manager comes to check progress, he's happy with everything done and asks me to look at a sixth repair.
Sixth Repair: A cracked bath - This kind of repair does not take long.
4.45 pm: Check over everything done, all look great so write out repair details with the plot numbers on the job sheet. Site manager signs all work off as completed. I tweet some before and after pictures.
Tuesday 9am
Local Hotel: Met the Maintenance Manager to see four damaged baths, only one guest has checked out at this time so start on the vacant room first. All rooms need vacating by 11am and the new guests arrive from 4pm so should be enough time. I complete all of them by 3:45pm. Maintenance Manager signs off my job sheet. With an earlier finish I walk round some nearby properties and drop some leaflets in through doors. Before I head home I send out a few Linked-in posts of before and after pictures.
Wednesday 9am
Private House needs a burnt worktop repairing where a hot pan has caused the surface to blister. Fixed by 11am and charged £95.
Next appointment wasn't till 1pm so did a bit of social media.
1pm House Builder: Signed in and shown damaged house doors and a garage door. Doors filled, colour matched and re sprayed.
Finished at 4pm
Thursday 8am
Construction Company new office block: Site Manager gives me a list of repairs - 16 Oak Doors! I do the easiest ones first and get 6 done by 10am. Work my way through the others and get an emergency call from a camper rental company who need a job doing before it goes out tomorrow, I agree to call in this evening. All doors done by 4pm.
I invoice the construction firm and head off home for tea before going to the camper rental company at 7pm. A simple table top repair is done in 30 minutes
Friday 9am
Window Company (met at a client's home): Four scratched glass units and damage to the window cill. I apply filler to the cill and will coat it through the day in-between the glass repairs. Takes a bit longer than I thought but still finished at 4.45pm. The homeowner and the window company are delighted and all signed off happy.

Find out how you can become a Surface Medic Franchisee. Click the button below now!