Surface Medic Business
Specialist Repair Franchise

As a Surface Medic Business owner the rewards are uncapped and earning levels as well as lifestyle choices are within your control.
Surface Medic is a Specialist Repair Franchise. They are part of the Service Solutions Group, a leading multi-faceted insurance supply-chain partner company providing an integrated solution for the management of property damage insurance claims across the UK and Ireland.
Why does Surface Medic Franchise its business?
For Surface Medic, franchising is the fastest route to expansion and brand growth.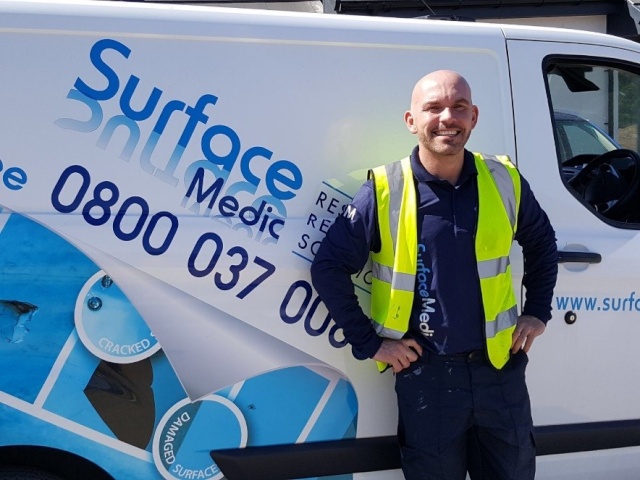 By recruiting carefully selected franchisees, each territory is then operated by highly motivated owners and the franchisees reap the benefits of their own hard work.
Surface Medic believe that a local owner with local roots and a personal financial stake in the company, will out-perform a salaried manager every single time.
The franchising route allows Surface Medic to quickly gain a national footprint without the complexities involved in trying to rapidly create a national multi-van operation.
The Surface Medic Business Opportunity:
Surface Medic Business owners are repair specialists who can restore almost any internal or external hard surface. Surface Medic have ultra-modern invisible repair techniques using highly advanced compounds, polymers and fillers which they then paint to perfectly match a surrounding area, even if that area is stone, glass, grained or shaded, inside or out. Surface Medic's repairs are permanent, invisible and in most cases completed within a few hours.
When a surface has been damaged often the only choice many people (and businesses) have is to replace, this means dealing with a lot of hassle, multiple tradesmen and ultimately a lot of money. This allows Surface Medic Business owners to work within a booming untapped marketplace.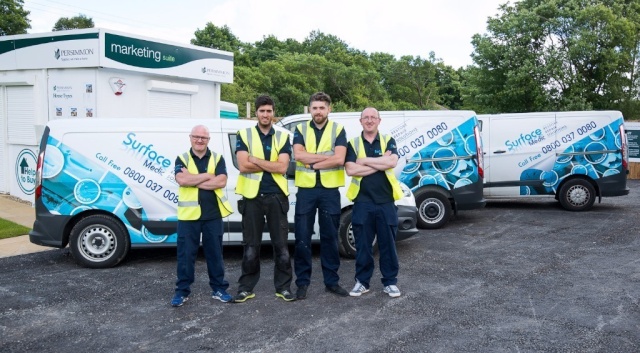 Surface repair was almost unheard of 5 years ago, but now at a time when companies and householders are under increasing pressure to reduce costs, the demand for the cost effective repair and re-surfacing solutions is inevitably growing. What's exciting is that this unique market sector is also readily accepted by insurance companies.
The wow factor is an everyday experience for Surface Medic Business owners. Customers are genuinely astonished at what they can do for them.
Training and Support:

The training Surface Medic provides is without a doubt one of the most important aspects of the franchise package. Learning how to perfect your craft is crucial to the success of the business.
Repair experience is not always needed, as long as you can be hardworking, have a keen eye for detail and enjoy working with your hands, Surface Medic can teach you the rest.
Carrying out restoration work on damaged surfaces is an art form and as part of their training they will ensure that you are equipped with the knowledge, skills and tools you'll need to carry out any job that you encounter.

Earning Potential
As a Surface Medic Business owner the rewards are uncapped and earning levels as well as lifestyle choices are within your control, however like any business, your success will always be dependent on your individual input and commitment.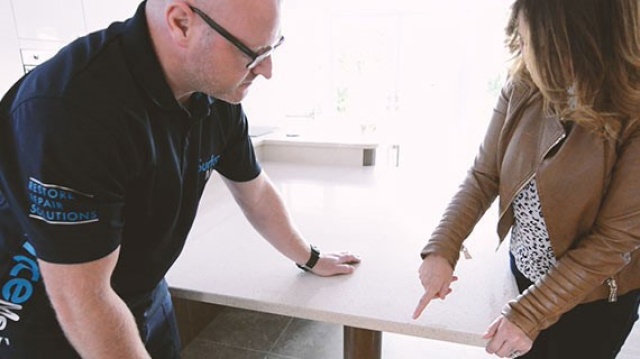 Going into business is exciting and a dream for many people, but for those that can follow their time proven systems a Surface Medic franchise offers a very attractive route.
With access to their blueprints Surface Medic hope every franchisee will turnover a minimum of £70,000 with just a one van operation. You don't need to be an exceptional salesperson either, they will provide you with the support and guidance you need to acquire new business and help you grow. All you need to do is be consistent, hardworking and reliable, Surface Medic will teach you the rest.
Is the Surface Medic Specialist Repair Franchise for you?
Choosing the right franchisees to fit into the Surface Medic family is a key factor in their success, they work collaboratively with franchisees and grow together. Surface Medic have a rigorous recruitment processes in place to make sure you are right for Surface Medic and they are right for you.
At Surface Medic, typically they look for the following key attributes:
Ambition
Attitude
People Skills
Work Ethic
How much is the franchise?
The Surface Medic investment level is sat at £29,995, much lower for a high end income opportunity.
Surface Medic Business owners will also enjoy a four week training course with a luxury hotel stay, there are tangible assets and an exclusive post coded territory, equipment, clothing, marketing materials and much much more.
Find out more about the Surface Medic Business, the expanding Specialist Repair Franchise. Click below now!