Enjoy being out on the road?
Hometyre could be right up your street.......
(and everyone else's in your area!)
The Hometyre Business provides you with the opportunity to run your own successful Mobile Tyre and Wheel Alignment Franchise. The UK replacement tyre industry is a booming £3.1bn per year industry with over 35 million cars on our roads and 40 million tyres purchased annually. There's plenty of room and a healthy appetite for your new business and service.

What are the main services of the business?
Mobile tyre fitting service including puncture repair, wheel alignment, locking wheel nut removal, tyre pressure monitor systems, Tyron safety bands, caravan tyres, summer and winter swop overs.
Is this a sole operator business or a multi-van management opportunity?
You can operate as a sole trader/limited company or partnership entity and has multi van capability for your future expansion.

Where would my business be based from?
A large trading territory defined by postcode is allocated in the area that the franchisee lives. The business is run as a mobile offering.
Can it be run as a family business?
Yes it can run as a family business.
What makes this franchise stand out from competitors?
Hometyre's bespoke system allows to the minute booking for the customer and maintains a franchisee electronic planner. This along with a centralised administration and sales team allows more time for the franchisee to grow their business.
What would be my main roles as a franchise owner?
To keep it simple, as the Hometyre bespoke systems free the franchisee of many administration burdens allowing them to do just two things.
Satisfy the customer you are with
Find more customers.
What does a typical day involve for a franchisee?
The electronic diary planner will detail the jobs for the day, the times involved and the customer details.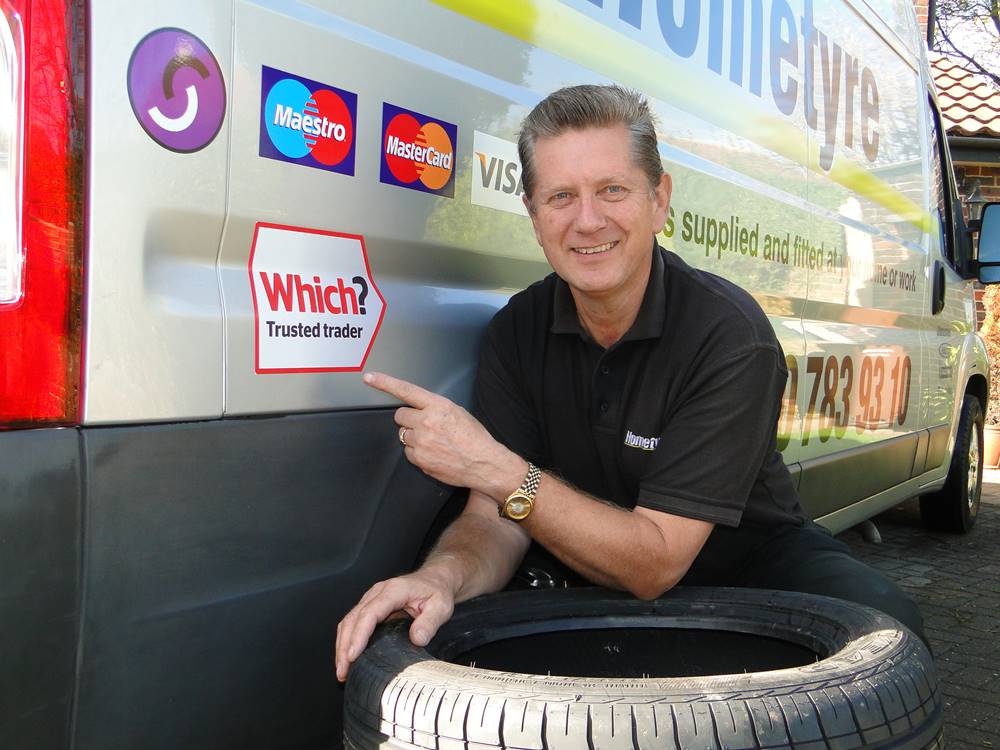 Tyres for the day are delivered to a pre-determined drop off/collection point. Often this is twice a day for morning and afternoon jobs.
By following the daily diary planner the franchisee will service the customer's jobs. Changes or additional jobs are communicated via the diary planner by HQ or by yourself if circumstances dictate.
Upon arrival at the customer you will carry out an inspection of the vehicle to ascertain its condition and that of the tyres and wheels. Often this will result in additional work to be carried out either that day or in the near future.
Customers appreciate the honesty in show tell style. After servicing the customer a report is done electronically and payment is taken via your own chip and pin machine. The waste tyres are taken away by you and are sent to recycling (weekly or monthly).
The work is varied from puncture repair to wheel alignment to tyre pressure monitor system replacements. Locking wheel nut removal and tyre swop overs are also a part of the job.
How do I get clients?
As part of your training Hometyre will cover marketing tools and techniques. You will also have support by HQ. Customers are harvested via their call centre sales team and by your own local marketing activities.
How long is the training period and what skills do I need?
As a Hometyre franchisee you will have a three week training program. There is one week training at HQ in the workshop with your vehicle and two weeks live in the field with their approved franchisee trainers.
You don't need any mechanical experience as it is all trainable. Obviously knowing one end of spanner is very helpful and you need to be of reasonable fitness as it is outdoors and a bit physical.
Hometyre have franchisees that have come from supermarket middle management to tennis coach trainers and anything in between.
What is the overall investment, and how much money should I have available?
The franchise fee is £24,950 and you will need to look at purchasing or leasing a suitable van. (Most choose to lease) and to ensure adequate working capital too. This is dependent on your personal circumstances. E.g. mortgages, loans etc. Hometyre will help advise on this.
How will you fund the Hometyre Franchise?
If you are not self-funding then you must assume a borrowing from a lender (bank, Govt funding etc). Many Banks will lend 50% and some cases 70% but when calculating this you will need to cover your working capital amount too.
How are territories defined?
Post code defined but unlike other offerings Hometyre give a large area that you can grow into without further cost. The ability to go multi van in time is built in to the trading territory.
If you are unsure what should you do?
Without a doubt book a visit to Hometyre HQ in Shrewsbury. In a relaxed environment they will show you their systems, provide you with financial plans and you will get to meet their talented team that will providing you with a huge range of support.
If you like what you see then they can arrange a day in the life, where you will ride alongside one of Hometyre's franchisees so you can get a taste for what it's like. You will be provided with a light lunch and you can bring a partner or friend or family member.
Find out more about the Hometyre Business, the successful Mobile Tyre and Wheel Alignment Franchise. Click below now!