A unique, technology-led van-based franchise with unlimited growth potential
MY WINDOW CLEANER will guide and support you in building your own successful Domestic and Commercial Window Cleaning Franchise in your local area. Directly reap the rewards of your hard work – earn great money from a stable foundation of regular local clients. Once you get busy, you will increase the customer base in other areas of your territory and they will guide you in bringing on staff and more vans.
What are the main services of the business?
MY WINDOW CLEANER aims to become the preferred window cleaner for households across the UK by developing a network of local business owners who share their values and vision of top quality customer service and complete reliability. Services include cleaning windows (internal & external), conservatories and gutters, alongside jet washing for patios and driveways.

Is this a sole operator business or a multi-van management opportunity?
As a MY WINDOW CLEANER Franchisee, you'll enjoy running your own van-based business using their established and proven business model. Initially you will be an owner-operator, but within a short period you can grow your business into a multi-van operation when you're ready. MY WINDOW CLEANER will show you how to replicate their success for yourself, using their brand and systems and with their experience supporting you every step of the way.
Where would my business be based from?
Your business will normally be based from home. However, by using MY WINDOW CLEANER'S technology, you can actually manage your business (clients and staff) from anywhere.
Can it be run as a family business?
After an initial operating period, it can be run as a family business.
What makes this franchise stand out from competitors?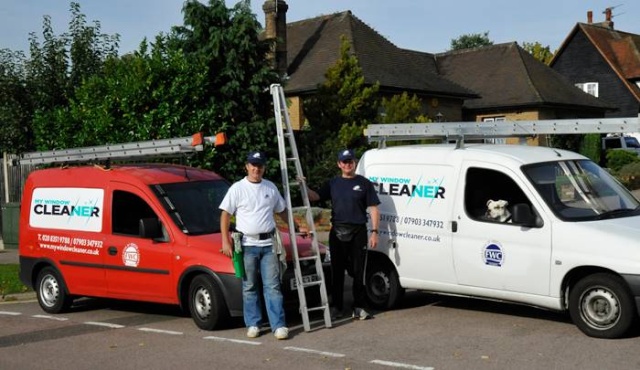 MY WINDOW CLEANER is going to change public perceptions of window cleaning, bringing it in line with other customer-service driven sectors through the use of technology.
Do you have the vision to revolutionise an entire marketplace with them? Their tech makes it simple for customers to communicate with their window cleaner, make bookings and payments, and it automates much of the administration involved in running your business.
Why is MY WINDOW CLEANER different to an individual window cleaning business?
A one-man band can only cope with a certain amount of customers and has no resilience if unable to work, for example due to holiday, illness or vehicle problems. MY WINDOW CLEANER'S systems and support mean you can grow substantially larger when you're ready, with exclusive technology that will help you where you need it most. When combined with their expertise and experience at your side, you'll enjoy significant benefits from their franchise that you can't get anywhere else.
What would be my main roles as a franchise owner?

Franchisees are initially window cleaners themselves, but when ready you can grow your business into a management-style operation with employees, which you run from home.
You can select and deploy your window cleaners to suit local demand, and this flexibility gives a great sense of independence with the security of a tried and tested business model.
What does a typical day involve for a franchisee?
Once you have 'learnt the ropes' and established a round yourself, you can then consider taking your first steps in building a team around you. MY WINDOW CLEANER will be right alongside you when you're ready to grow, offering guidance and experience including how to train and motivate window cleaners to maximise your revenue.
How do I get clients?
MY WINDOW CLEANER makes marketing simple for franchisees. Their well-established IT system offers flexibility: you stay in control of how and when to increase sales and adjust marketing campaigns according to changes in local demand and any seasonal variances.

They know how well it works, because it's how they have grown their own business!
MY WINDOW CLEANERS are chosen for their likeability and trustworthiness, so customers can be assured of genuine advice when it comes to their home – and no hard-sell is required.
As you get to know your customers you'll have great opportunities to maximise your income through extra services such as conservatory and gutter cleaning, identifying and meeting their cleaning needs.
Many customers are time-poor and it is much more convenient for them to delegate time-consuming tasks to a trusted window cleaner who knows the house and its exterior areas well.
How long does it take to train someone as a window cleaner?
A window cleaner with no ladder or window cleaning experience can take 2-4 weeks to train to work to MY WINDOW CLEANER's standards, and learn how the company works. Speed will come as you gain experience, with most hitting their full stride somewhere between 3 & 6 months.
Is window cleaning a seasonal business?
No, it's a year-round business. There are a tiny percentage of customers who reduce the frequency of cleans or do not wish to have their windows cleaned through the winter months - but winter can be a time when you pick up more business, simply because a lot of other window cleaners give up when the weather becomes harsher.
What is the overall investment, and how much money should I have available?
You will need around £5,000 - £8,000 of your own cash to start your business; the rest can be loaned over a period of time if required. A total investment of around £20,000 is required to get up and running, which includes around £6,500 of working capital in your first year of operation. This is the total cost, including vehicle deposit.
What financial rewards can be achieved?
The income you can earn from your MY WINDOW CLEANER business is limited only by your ambition and hard work. They will help you to produce a full and detailed business plan for your exclusive territory. As a guide, you can expect estimated profits of £24,000 in Year 1, rising to £65,000 in Year 2 and £80,000 in Year 3. You will also be building an asset as you grow – you can sell your business when you are ready and benefit further from your expansion.
How are territories defined?
Your territory, trading area, is exclusive, meaning no other franchisees can operate in it. MY WINDOW CLEANER have used a specialist mapping company to create each viable territory based on a minimum of 15,000 target households, which meet the demographics of their existing client base. They expect a franchisee to win around 4.2% of the target households in their territory. In turn, this would achieve a highly profitable and sustainable business, with room for additional growth.
Are there any existing franchise businesses available for resale?
MY WINDOW CLEANER have operational territories for sale in the North London and South Herts areas, which offer a significant turnover from day one; as well as new start-up territories across the UK.
Find out more about the MY WINDOW CLEANER Business, the successful Domestic and Commercial Window Cleaning Franchise. Click below now!
What

Our Franchisees Say

Our marketing system is proven to bring in results. We use the latest promotional channels combined with tried and tested methods to help you quickly establish your own customer base, which pays you a regular income stream. As you grow your business, MY WINDOW CLEANER will support you on a route to having more vans and a larger territory.David Prewer, Director

I have worked in franchising since 1993, helping franchisees build their own successful businesses. We do it properly – which means it is hard work, but you get the payback for the effort you put in. I really do enjoy the reward of seeing people build their own companies and be in control of their future.Ian Bradley, Franchise Director

I setup MY WINDOW CLEANER in 1996 and we now have over 4000 customers, the majority regular visits! We have invested in doing it properly and have a great support team, fantastic technology and the results to prove it. We have proved time and again that we can help people make far more money, far more easily than if they start as an independent operator!Karen Prewer, Founder
Why

Choose Us

Multiple services have been added through proven customer demand

A unique low touch business model with unlimited growth potential

Market-leading bespoke software, with online customer booking & communication system and a smartphone App for you and your cleaners
Related

Franchise Categories
Related

Franchise Types