A unique franchise opportunity with real social benefit
The Clothes Aid Charity Business is a successful and established Van-Based Collection Franchise, they are the UK's leading collector of used clothing. Since 1996 Clothes Aid have raised over £10 million for their charity partners. As the doorstep collection market has grown and developed they have expanded their operations.
More than 45,000 households donate clothes to Clothes Aid each week because the service is hassle free, and supports great causes. Franchisees benefit from their own postcode area (typically 50-60,000 households) to collect their share of this dependable on-going supply.
The Clothes Aid Charity Business Opportunity:

As a Clothes Aid Charity Business owner you can either be a single van franchisee (where you carry out the bag distribution and collection work with a small team) or you can build the business into a multi-van franchise (operating out of an industrial unit) where you eventually take on the role of the business manager.
Both options have significant financial potential in relation to the income and profit that the business can generate and the money that we raise to support our charity partners.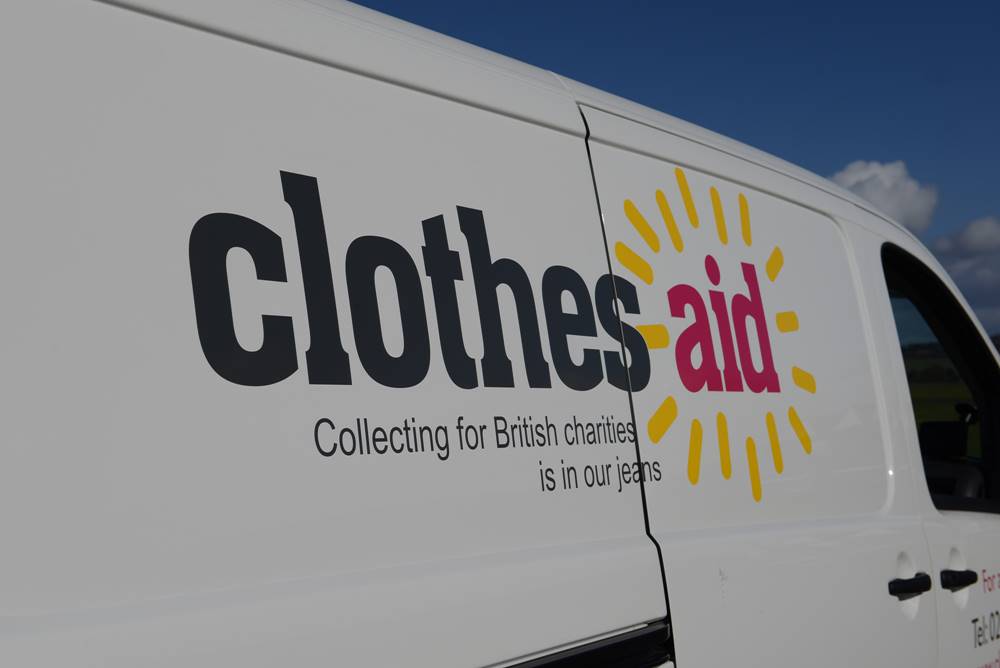 The business model is very simple - Clothes Aid franchisees run a team or teams carrying out the distribution and collection of charity bags to targeted areas and households within their franchise area.
Each team needs a van with the capacity to carry at least one tonne of clothing.
The clothing collected is bought by weight, and sold to third parties, generating an income with a proportion of Clothes Aid funds going to nominated British charities.
You don't need previous experience in the Charity Bag collection sector to become a franchisee with Clothes Aid (but if you've got it great). They have a comprehensive induction training programme and a very robust model to follow.
You do need to be fit and healthy and happy to work outdoors. You will need a van for the business and they can help you to arrange that through one of their preferred suppliers.
What is the earning potential?

The Clothes Aid network collects over 50,000 clothing bags per week within the UK, creating potential for predictable and dependable supply of revenue.
Earning potential for your first year is £25,000-£45,000, subject to response.
With Clothes Aid's comprehensive support, franchisees can be generate income within the first two to three weeks of starting the business.
The Franchise Package:
If you have got a suitable van that can be used your start-up costs will be around £6,200 + VAT. The costs of signwriting the van, uniforms for a 3-person distribution, team, induction training and initial supply of bags are included in the franchise fee.
If you do not have a suitable van the initial start-up costs and working capital requirement for the business is around £11,200 + VAT. This value includes the cost of a second-hand van at £5,000.
The Comprehensive start-up package includes:
Full use of the Clothes Aid and relevant charity partners branded charity bag collection materials in your franchise area
Corporate clothing and initial supply of charity bags
Licence applications on behalf of franchisee to enable you to trade legally and meet current regulatory standards
Advice and support on pre-trading requirements - sourcing a vehicle, recruiting and training teams, arranging licences etc
A comprehensive induction training programme for you and your team
Initial 'on-site' support during the early stages by operational manager
Regular on-site visits to provide ongoing help and business advice
Central purchasing for specified items (bags and corporate clothing)
Regular meetings with other franchisees
Central warehouses to store the collected clothing
Weekly secure payment for clothing collected
Is the the Clothes Aid Charity Bag Collection Business for you?

To build a successful Clothes Aid Charity Business you must be willing and able to work hard and get actively involved in the business.
Once established, you can employ team leaders to run the distribution and collection teams but in the beginning there is no substitute for leading from the front.
You'll need to learn the ropes as far as distributing and collecting bags is concerned, so you'll also need to be reasonably fit.
You will also need to be able to be very organised, or have an organised partner who can be involved actively in the business.
The business system uses simple software packages so you (or your partner) will need to have reasonable IT skills. To maximise your tonnage returns you must operate the business according to the Clothes Aid Model.
Find out more about the Clothes Aid Charity Business, the established and profitable Van-Based Collection Franchise. Click below now!