Mark & Tracy Round From OSCAR Pet Foods Stourbridge
After a long career in high-tech IT businesses (with too many hours spent working away from home), Mark's redundancy was tinged with relief. As we paused to take stock, we realised a change in pace would be relished. With many successful years in marketing and statistical analysis behind me, I, too, was ready for more time at home.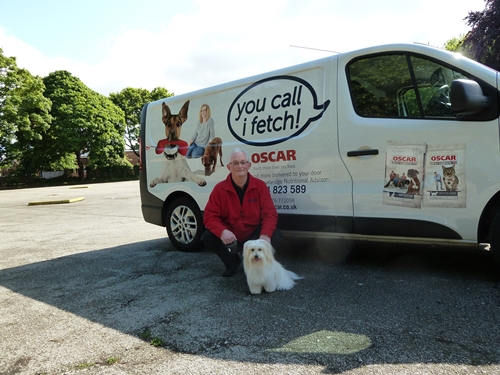 As luck would have it our rare breed, Rosie, stopped eating her well-known brand of dog food and we found ourselves searching for something new.
In doing so, we found OSCAR Pet Foods and started thinking about franchising opportunities – and all of the positives that franchising could bring to our lives. Being mortgage free, it would offer us a release from set time constraints, flexibility to plan our own working day and freedom to work as much or as little as we wanted to.
We headed off (on Valentine's Day!) to an OSCAR Discovery meeting, where we were greeted with such warm enthusiasm and professional expertise we were immediately hooked. Taking home a starter bucket sealed the deal: Rosie loved it! One only has to have experienced a fussy eater to know that the minute you find something they love you can relax!
Finding quality British pet food, 100% honestly labelled, with clear nutritional benefits and obvious palatability was incredibly rewarding. We knew we were giving Rosie something she loved, as well as giving her something to keep her in perfect health. OSCAR's strong family roots and commitment to honesty felt right. To this day, finding quality products to meet customers' needs is our top priority – we don't stock anything that we wouldn't give to our own dog.
If we were to offer advice to anyone just starting, we'd recommend having a sum of money set aside for the first year. Successfully launching a franchise business is hard work and involves throwing everything at it, so financial back up for the first twelve months is wise. Aside from financial planning, patience and integrity go a long way. Staying true to the OSCAR value of honesty has bought us more sales in the long run. Never underestimate the power of discouraging a sale for the right reasons; gaining customer trust often secures future business.
We're still growing, in spite of the COVID 'hiatus', and we've embraced the marketing strength of social media and 'friend recommendations' along the way. In the coming months we're excited about the reopening of local shows and events.
Of course, Rosie does her bit too. Having a lively Coton de Tulear haring around in perfect health draws quite some attention: so much so that 'Perfectly Pampered' treats are simply known as 'Rosie treats' to our friends and loyal customers: proof that nothing beats quality you can see!
Find out how you can start your own OSCAR Pet Foods franchise by clicking below