A Man and a Van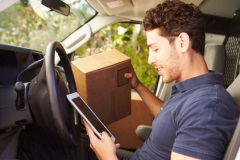 Some of those who enter the world of franchising are looking for flexibility of working conditions, whether due to stage of life, income requirements or simply choice in regard to work and life balance. Of course, certain franchise businesses are more flexible than others, both in term of working hours as well as business direction. One area that many men aspire to, secretly or otherwise, is a business where they can be 'a man in a van'!
By reputation, a man in a van has one of the most flexible working arrangements going, taking themselves from here to there, doing odd jobs, deliveries, removals, or whatever else comes their way, local or distant. So, what's the big appeal with working as a man in a van, and how can it translate into not just a successful business, but a professional career choice that ticks all the boxes for some franchise seekers.
'Man in a van' Business opportunities: What's the big appeal?
There are a number of reasons why a van-based business can be appealing – working your own hours, choosing which jobs you take, not having a boss, not being stuck behind a desk, and not knowing where the day may take you or the people you may meet, but this also seems quite an unreliable source of income, which is not likely to lend itself to a family household – so perhaps the world of franchising, with proven business systems can give you the best of both worlds? Lets explore….
Be the face of your community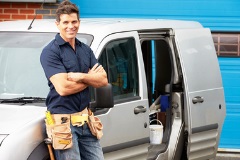 Van-based franchises are very distinctive, with some brands instantly recognisable. Go back a decade or two, and the trend-setters in recognisable van-based franchises were the bright orange Dyno-rod vans. Ah yes, we all remember them, you couldn't miss them! Did you know they were a franchise though? Probably not!
Today, there are a whole range of van-based franchises that stand out with the recognisable vans, some of them national brands. And if you are lucky enough to be part of franchise network with distinctive vehicles then, chances are, you (or at least your van!) will be recognised in the local community. And you have to admit, the idea that people you meet say 'I've seen your van around', does have its appeals. So, whether it is Lawn Care, DIY Franchises or Car Paintwork repairs, there are an abundance of recognised franchise brands out there, ready to make you a recognised face in the local community.
Benefit from the power of an established brand
Beyond having a recognisable branded van, one of the most attractive benefits of starting any franchise is the training, support and general business assistance you receive from the franchisor – 'you are in business for yourself, but not by yourself'.
For example, the well known Riverford Organic Franchise. Not only is this an award winning franchise, with instantly recognisable vehicles and branding, but with a national infrastructure of farmers providing the growing away of organic produce for your localised home delivery, there is also highly developed ordering software, website services, online marketing to help support the activity you drive in your local territory.
A business like that cannot be simply started overnight on a stand-alone basis – a true benefit of a franchise. One of the most important elements of this is the recognition that consumers have of your brand. This in itself immediately stands you in good stead when competing against independent companies; you are instantly thought of as more trustworthy, more reliable and better skilled and as such, are far more likely to win the business.
No previous experience necessary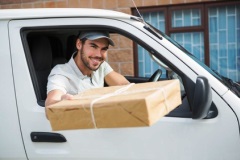 You know nothing about lawn care, or car paint scratch repair, but you know you quite like the idea of packing up the office job, and getting hands-on with a practical business like this. So would you just do a bit of research but some tools and give it a go? Hopefully not, or you will be taking a massive risk by embarking on the steepest learning curve going.
What if somebody had the path to success already mapped out for you, ready and waiting to go – the tools, the training, the best ways to market, company infrastructure and support all set up ready for you to replicate in your local area in a protected territory? When you think about it, investing in a franchise is really quite an obvious choice sometimes!!!
The vast majority of franchises offer extensive training in all aspects of the business, so you do not need to have previous industry experience in many cases. Some franchises actively pursue people without previous experience, so they can train them 'their way' rather than trying to change 'old techniques' or 'bad habits' of people who have previous experience in certain industries.
Flexibility
A 'man and a van' franchise offers the utmost flexibility in terms of working hours, potential growth and earnings – within reason. With practically all van-based franchises, you will get a set geographic territory, containing a level of potential customers. Therefore, the franchisor will often expect that you will work that territory with a certain level of activity to ensure that the brand is properly represented. Of course, you would be unlikely to invest thousands of pounds in a full franchise and then only want to work one day a week.
That said, compared to many other business sectors, you do have a lot more flexibility in how you schedule your time, so you can work your business to suit you, perhaps avoiding the worst of the rush-hour traffic, or giving yourself the opportunity to do the school run, or have the odd afternoon off, its up to you!
Choices, Choices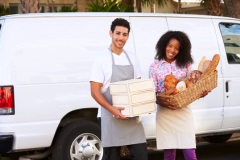 There are various man and a van franchises opportunities available covering a whole range business sectors and business models. Of course, they are not just for men! But many of them are very male-dominated. That said, lots of franchisors are seeking more female operators, and some sectors, such as pet supplies have similar numbers of female operators to males.
Alot of franchises are suited as franchises for couples, or family businesses. Divvying up the 'admin' from the 'hands-on' activities, many businesses are perfect for a family business. Whatever the franchises, if you fancy being a man in a van, then explore what franchising has to offer!