OSCAR Pet Foods boost franchise success with exclusive new joint care for pets
17th October 2023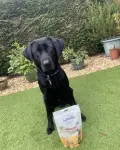 OSCAR Pet Foods always have their nose to the ground when it comes to sniffing out the latest and greatest pet products, and AniVatio Projoint Soft Chews are a fantastic discovery.
Joint care is hot news in the pet industry. Improvements in nutrition and veterinary science mean pets are living longer: but living longer means increased wear and tear for joints. Understandably, owners wish to support their pet's mobility and comfort with effective supplements.
Anivatio ProJoint soft chews work differently from traditional joint supplements such as glucosamine and chondroitin. Although glucosamine and chondroitin are produced naturally by the body, research suggests their benefits are unclear when given as supplements.
Happily, Anivatio's formulation works by targeting the dog's immune system remotely in a process called oral tolerisation. Unlike glucosamine and chondroitin, UC-II® makes immune cells less sensitive to Type II Collagen – keeping the immune system from attacking the joints. This promotes long-term joint protection for improved agility and comfort.
AniVatio's formulation uses a simple, one dose system for all breeds and sizes – avoiding any dose-related complications. And because nighttime is the best time for cell rejuvenation, owners can settle their pets to sleep with a soft, tasty treat that not only eases discomfort but also promotes restoration for the new day ahead.
AntiVatio ProJoint is suitable for both dogs and cats and uses undenatured collagen UC-II® – clinically proven to reduce stiffness, improve mobility and renew cartilage in pets. Clinical trials show a marked reduction in overall pain by 90% and exercise-associated lameness by 78% after just 120 days – truly impressive results.
Managing Director, Richard Martin, explains:
"As a company, we're proud to put pets at the heart of everything we do … so when we heard AniVatio's ethos is to test products on humans first to discover if they are safe for pets we knew our company values were aligned! We're always pleased when we can offer something new and exciting to our trusted network of franchisees and AniVatio's ProJoint Soft Chews reflect our never-ending commitment to provide nutritional excellence. We're delighted to secure an exclusive route to market for AniVatio in the UK."
Find out how your can run your own flexible delivery franchise with OSCAR Pet Foods by clicking below now!