The Snap-on Tools Business Opportunity provides you with the opportunity to earn over £6,500 per WEEK!
Established in the UK in 1965 with its first office in Kettering, Northamptonshire, Snap-on Tools now has over 430 franchisees operating territories in the UK and Ireland. Globally, their franchise network is made up of more than 4,300 franchises.
Snap-on is the world's number one professional tool brand. Business owners deliver a range of over 22,000 gold-standard, premium products to technicians up and down the country.
The Snap-on Tools Business Opportunity:
Snap-on Tools offers you the opportunity to enjoy all the benefits and freedom of being your own boss whilst safe in the knowledge that you have the back-up and support of our global support network behind you.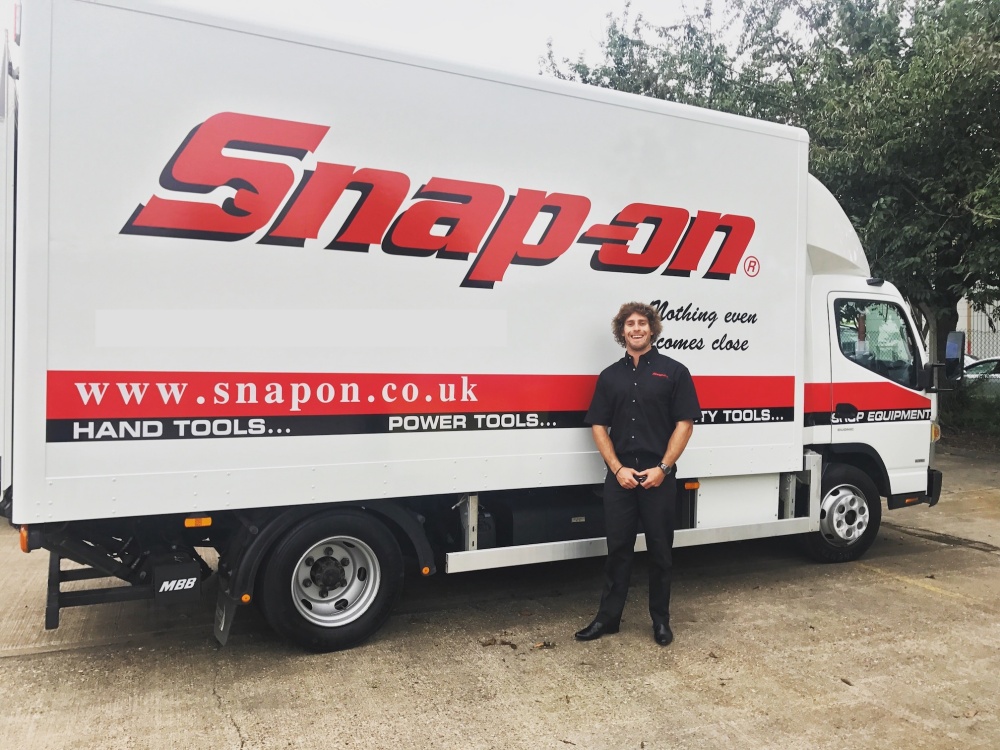 As a Snap-on business owner you will visit, on average, 20 garages per day visiting customers who either want to know what is new or requiring your help with repairs or upgrades and trade-ins.
Snap-on are all about working smart so have developed state-of-the-art software that can auto-route your working weeks, Monday to Friday.
It starts furthest away and works you closer to home as you get to Friday – that's why, on average, franchisee mileage is less than 10,000 per year.
There's no limit to what you can achieve as a Snap-on business owner. Whether you want to be a one-man van operation or you want to develop a multi-van, multi-territory operation, they are here to give you all the support and guidance you need to achieve your goals.

Training
Initial training will be ten days of classroom-style training in the US where you will learn how to run a successful Snap-on business.
Product knowledge and application: getting comfortable with our most popular tools
Marketing and merchandising: how to build great deals and showcase your stock
Salesmanship: we work on a proven 'features and benefits' approach to sales
Credit selling: helping your customer structure their purchases for long term benefits
Customer service and management: how to create and keep happy customers
Business administration: behind the scenes work that keeps the wheels turning!
Basic accounts: cash collection and banking processes that are as easy as 1, 2, 3
Computer training: getting you up to speed on your sales and stock systems.
Over 200 support staff!
In the UK, you will meet the staff who will support you on a daily basis and collect your very own custom-built mobile store.
There are over 200 staff working to make your business a success, from their marketing, finance and customer service departments to the staff who run the state-of-the-art repair centre and Torque lab.
Support:
You will receive one-to-one training a dedicated Snap-on Franchise Developer who will ride with you for your first four weeks.
As part of their six-month intensive on-boarding process, you'll then receive a further 31 days of on-van support from a Sales Developer and Business Manager over the following five months, that's 51 contact days in your first six months!
They'll help you to iron out any creases and really build your confidence with your products and service. After your six-month on-boarding programme, you'll find your Franchise Performance Team are there to support you.
How much does it cost?

The investment required to become a Snap-on Tools Business Owner is £24,143 but, with their exclusive Jump Start package, you only need £11,755 and Snap-on will pay the rest. Same great business opportunity, half the start-up cost.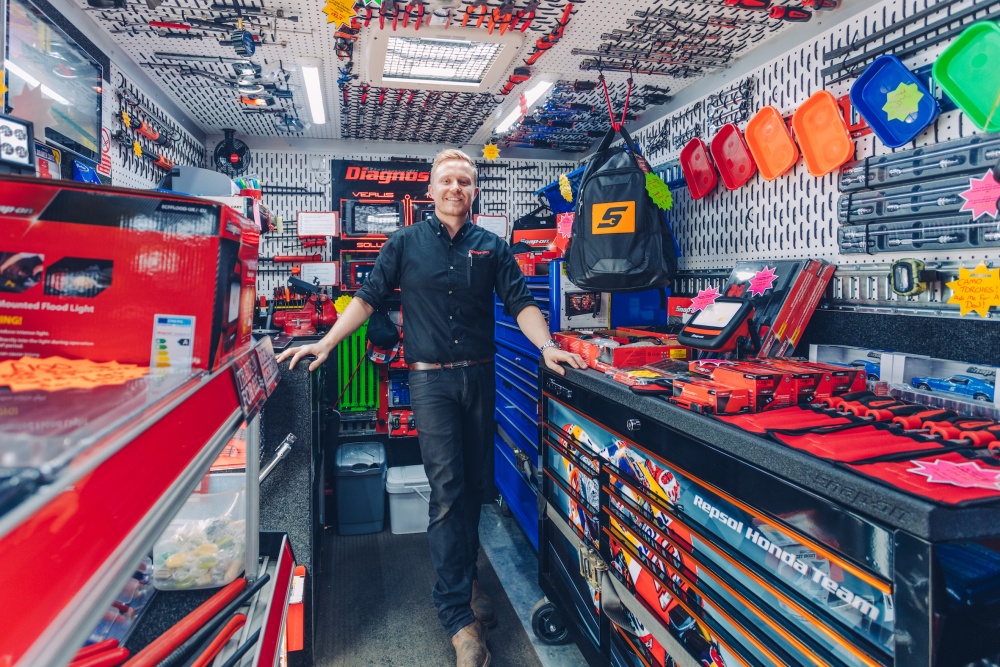 You can also still take advantage of their help-to-buy scheme. Snap-on has their own in-house bank which offers business loans to fund the purchase of your franchise. This means there's no need to go through the High Street banks.
To start your very own Snap-on franchise, you need £11,755 and then, Snap-on will fund the remaining investment on a ten-year interest-bearing loan.* Fixed, regular payments mean you can manage your cash flow and always know exactly where you are with your finances. They will even offer you a payment break for your first three months in order for you to get your business up and running.
The Franchise Package:
The franchise package includes everything you need to successfully launch and run your business:
Exclusive, protected territory
Dallas training week
All starter stock
UK head office and field-based training programme
Dedicated support team
Advanced sales and stock IT system
Operations manuals
Continuous training and support including monthly franchisee forums, annual conferences and workshops
Could you become a Snap-on business owner?
Snap-on are looking for people who have great people skills and the ability to really build relationships with customers. You need to be dedicated and willing to put some serious effort but so long as you have a great attitude and the motivation, Snap-on can teach you all you need to build a profitable, rewarding business.
Find out more about the Snap-on Tools Business opportunity and running your own Mobile Tool Store Franchise. Click below now!
What

Our Franchisees Say

Snap-on teach you everything you need to know and are there to support you every step of the way, so I've never once felt out of my depth.Craig Bishop, franchisee

I love that Snap-on offer you unlimited support. It's so important if, like me, you haven't owned a business before. Sometimes I don't know what I would do without them!James Dainton, franchisee

The best thing about being a Snap-on franchisee is being responsible for your own success. The feeling of pride I get from running my franchise tops anything I've felt before in my working life.Guy Baldwin-Brown, franchisee
Why

Choose Us

Snap-on have trained and supported over 430 people, just like you, to build their own successful, profitable business.

With Snap-on, you're never just a man in a van. Their team of over 150 head office staff support you in all aspects of your business; from sales and marketing to product, IT and finance.

On average, Snap-on franchisees earn over £6,500 per WEEK with many achieving average weekly sales of more than £10k.
Related

Franchise Categories
Related

Franchise Types