OSCAR Pet Foods Franchise
Van-based Pet Food Delivery Business
A home-based strong business opportunity in a growing
sustainable market
The OSCAR Pet Foods Franchise offers a unique opportunity to run your own Van-based Pet Food Delivery Business in the profitable pet industry. Franchisees receive a comprehensive training package which means that no previous experience is necessary to run an OSCAR Pet Foods Franchise.
Why choose OSCAR?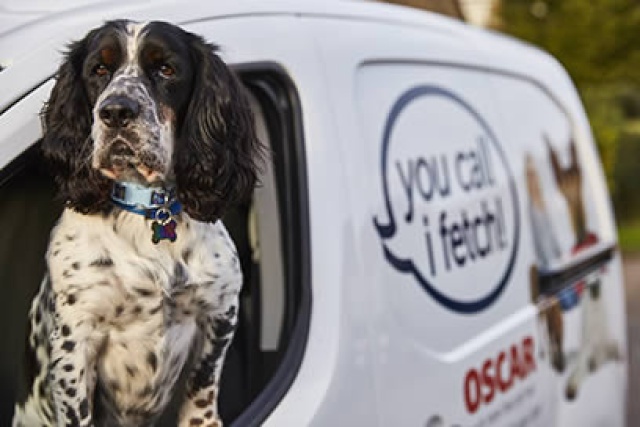 OSCAR specialises in providing the complete pet care service direct to the customer – from food and toys to treats, accessories and health care products.
They pride themselves on using premium, locally sourced ingredients (where possible) with nutrition being their primary consideration.
OSCAR produce a range of highly nutritious and extremely tasty foods to sustain a healthy lifestyle for cats and dogs.
Customers want to feed the best food at a competitive price, and they enjoy a service that is backed up with FREE advice from experts in nutrition, behaviour and veterinary matters.

OSCAR has kept a firm focus on changes in pet food manufacturing, while devoting time to a growing network of franchisees. Opportunities are flexible and tailored to suit individual backgrounds and/or experience, whether to develop into a full-time business, treat as a second income or even add to an existing operation.
OSCAR continues to reinforce franchisee progress with exciting incentives and avenues of opportunity. As each business grows from strength to strength the OSCAR system is satisfying more and more customers.
The Franchise Opportunity:
An OSCAR franchise provides the security of a strong brand and protected image that gives you the benefit of running your own Van-based Pet Food Delivery Business alongside like-minded individuals.
Franchisees are supported by trained and experienced mentors. OSCAR is a tried and tested system which ensures you will be suitably qualified to understand and promote the products and services you have to offer.
OSCAR is a business that provides a positive cash flow with low overheads in a rapidly expanding market. As full members of the British Franchise Association and the Pet Food Manufacturers' Association, OSCAR is well established and recognised within the industry.
NEW FOR 2019!
OSCAR is giving away £2,000's worth of marketing via local and social media platforms. The opportunities are endless, but to kickstart your new business with a combination of outlets will be a great opening for your launch date.
To be at the forefront of your local business, you will be looking to provide a committed service direct to the front doors of your community. Reliability with the personal touch creates a bond between you and your customer, ensuring you can offer a valued contribution to your neighbourhood.
OSCAR is offering you:
A personal website promoting your business in your locality
Social media – Facebook locations to provide fun and interactive content to customers
Online listings – creating local listings to promote your business to the community
Google my Business – making it easier for pet owners to find you and your business
The Investment:
To run your own OSCAR Pet Foods Franchise you will need an investment of £8,995 + VAT.
The OSCAR franchise package provides flexibility and choice in accordance with your own level of expertise and skill set. Commencing with the fundamental necessities to launch an OSCAR Franchise the package has been designed to provide a cross section of additional business development services that you can tailor to suit your needs.
All new franchise owners will receive:
An exclusive standard territory
Innovative and user friendly training delivered by experienced mentors
Unique to OSCAR – A formal nutritional qualification
Full colour livery
Professionally branded corporate marquee for use at local events
Corporate clothing and equipment
Vast array of branded marketing materials
Access to online marketing tools
Access to online PR system
Franchise manual for easy reference at your fingertips
Internet discussion forum enabling you to network online
Bespoke customer relationship system
Fully functional bespoke accounts system
Internet discussion forum
A comprehensive online reference manual
E-commerce to send customer enquiries direct to your business

Finally, choose from Essential Stock Options and Optional Business Extras to add the finishing touches to your personalised franchise package. Each option is costed so you can plan your investment in conjunction with the essential elements needed to enhance your personal business growth.
Find out more about the OSCAR Pet Foods Franchise, the leading Van-based Pet Food Delivery Business. Click below now!