'SMART' business risk pays off for delivery driver turned vehicle repair franchisee
A former delivery driver's decision to launch his own vehicle repair franchise has proved to be a 'SMART' decision after his firm, Revive! Waltham Abbey, has enjoyed impressive financial returns and coveted award recognition.
Vehicle repair firm, Revive! Waltham Abbey, has been lauded?as one of the best small businesses in Essex
Under the leadership of business owner, Ken Allison, Revive! Waltham Abbey turned over half a million pounds in 2022
Ken's idea to launch the business came during a shift working as a delivery driver, where he saw a vehicle technician performing a SMART repair outside someone's home
The success of the business has been attributed to its mobile offering, which sees one of the team's technicians visit their customer's home or workplace to conduct the repair
Vehicle Repair Franchise Opportunity
Nazeing resident, Ken Allison, established the firm as part of Revive!'s now 50+ branch UK-wide franchise network in 2008. Now, nearly 15 years on, he has scaled the business into a £500,000 operation, employing 6 local technicians, each with their own specially outfitted van.
Such is Revive! Waltham Abbey's success, which offers SMART (small-to-medium-repair-technique) repairs on a mobile basis, the franchise has been nominated in the Small Business of the Year category at the Essex Countywide Business Awards – making them one of only 3 finalists out of 39 nominees. Ken and the team will see if they have won the overall award at a ceremony staged on 27 October at Braxted Park, Witham.
In 2008, Ken Allison worked for a major logistics firm as a delivery driver, when one day on shift, he saw a repair technician fixing a bodywork scuff on a customer's driveway. At the time, the concept of SMART mobile vehicle repairs was in its infancy, and Ken was intrigued by the concept. The following year, Ken launched his own Revive! Waltham Abbey franchise.
As one of the trailblazers of mobile repairs, Revive! Waltham Abbey shunned the traditional vehicle repair business model which requires customers to drop their car off at a bodyshop, meaning motorists often have to wait for prolonged periods of time before getting back on the road, at a higher cost.
Revive! Waltham Abbey was one of the first businesses in the area to visit their customer's home or place of work to conduct the repair, with most jobs completed in 2-4 hours.
Business owner Ken Allison, commented: "When I started my delivery shift on that day 15 years ago, I was expecting it to be like any other day, but it turns out I stumbled across my inspiration for starting a business!
"I had no background in automotive repairs, but I had a strong intuition that this was a business that could thrive, and so I took the risk.
"I am delighted to have made such a success of the business, and that is largely down to the commitment of my team over the years. Our business award nomination is a testament to their hard work, and we are all looking forward to finding out whether we will win the overall award on 27 October."
Find out how your can start your own SMART Repair Business with Revive! Click below now!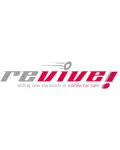 Building An Inheritance With Revive!
It's a family affair at Revive! Southampton