Mobile Coffee Franchises
There are currently no franchise opportunities in this section
---
Mobile Coffee Franchises - One of the franchise sectors best associated with franchising, Coffee franchises have shown strength and resiliance in all economies and are set to continue to grow in all sectors. Mobile Coffee franchises are one of the fastest growing sectors of coffee retail, taking custom built vans selling coffee and other food and drink products direct to the customers.
Coffee Vans and mobile coffee franchise opportunities are profitable by minimising costs without premises and extensive staff or equipment costs (other than the initial van-based kit). Start you own mobile coffee franchise today by exploring the mobile coffee franchises available in the UK here today.
Latest

News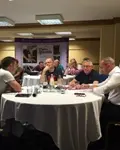 What's Been Cooking at Oven Wizards Annual Conference?
29th October 2019
Jump Start Package
17th October 2019
Latest

Case Studies