ChipsAway and Womanic Join Forces To Empower Women
12th March 2019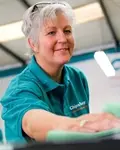 ChipsAway and Womanic empower women to have more confidence when dealing with all things automotive!
According to the Institute of Motor Industry (IMI), the automotive industry is currently running at a ratio of 10:2 males to females, which is a staggering gender imbalance. This could also be the reason why many women lack confidence when dealing with automotive issues and leave car maintenance and repair to their male counterparts.
With this in mind, leading minor automotive paintwork repair specialists ChipsAway, and the first UK all-women run garage repair and servicing facility, Womanic, have joined forces to encourage females across the country to not only have the confidence to deal with the automotive trade, but also inspire more women to get into the industry and help start to address the gender inequality issue.
Founder of Womanic, Louise Baker, has been in the automotive trade – repairing and servicing cars, nearly all her working life. But it was after having her daughter in 2014 that she decided she wanted a better life for her and her daughter, and wanted to prove she could do anything she set her mind to. The name 'Womanic' came to her in a dream, and the rest as they say, is history. Louise hasn't had a 'quiet' week since, yet is able to work around her daughter – being there for the school run and also able to occasionally finish early to spend quality time with her daughter.
Louise says:
"Working for myself is one of the best things about my job, so I can plan around my daughter. That and the fact I love what I do!
Years ago it was more difficult, but I've built up a reputation now and I'm well-known on the car scene, so that helps. I love working with men and women, and really would urge female customers to have more confidence when it comes to dealing with automotive issues.
I feel I can really make an impact on the sector and stand out for being different. I am hugely inspired by Mary Portas and her book 'Work Like a Woman'. She is an amazing business woman, who has excelled in a male-dominated environment."
Caroline Clennell, one of ChipsAway's specialists who owns and runs the car paintwork repair business covering Stroud and Cirencester, knew ChipsAway was right from the off:
"I wanted to be able to run my own business, but in a field I love. I have always been mad about cars and I previously worked as a studio artist, so I knew I had some practical skills. It seemed a no-brainer.
I still love fixing cars - every day is a different challenge. The biggest thrill is how happy people are with the work I have done. Nothing beats that 'wow' from a customer when you hand back their pride and joy at the end of the day. Sometimes they ask me to thank my husband for his hard work and I love their reaction when I tell them it was actually me that carried out the repair".
Both Louise and Caroline couldn't agree more that 'knowledge is power', advising anyone who might be a little unsure of dealing with traditional garages and bodyshops, or even tackling it themselves, to 'swat up' beforehand.
If you've always loved cars, and the idea of turning this passion into a business really appeals, don't be put off simply because you're female.
Follow Louise and Caroline's lead and do your bit to help change the automotive industry into a better, more-inclusive environment, where women and men are seen as the equals they should be! Click below to find out more about ChipsAway
What

Our Franchisees Say

I could see the flexibility of ChipsAway's business model would work for me. Working for myself as a franchisee is a world away from my life before.Neil Dobson, franchisee since 2013

I'm absolutely thrilled with the way my business is going. I wanted something flexible, that was not massively expensive and which had the potential for growth. ChipsAway fit the bill and has proved to be everything I'd hoped for. 'It does what it says on the tin', and if you follow the business model you can't go wrong!Andy Cornell, franchisee since 2011
Why

Choose Us

Fantastic Earnings - Potential Rewards for franchisees are unlimited

Brand Leader with Proven Demand

Expert Knowledge - ChipsAway's proven business model is tried and tested. Working with ChipsAway gives you easy access to a wealth of advice and support.
Related

Franchise Categories
Related

Franchise Types