Oven Wizards offers great value for money!
23rd April 2021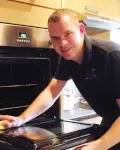 The Oven Wizards Franchise package has cost just £12500 +VAT since 2013. The package includes everything that you will need to get your new Oven Wizards business up and running. At this level it is well below the price of our main competitors.
Oven Wizards now have over 60 Territories with successful Franchisees trading under the Oven Wizards brand name, and we still have some Territories left to sell in parts of the UK.
Recent feedback tells us that the present fee represents exceptional value for money which includes a great business launch package and focussed support from the business owners. We have therefore decided to increase the fee to £15000 +VAT, effective from 1 June 2021. This still represents great value for money compared to our main competitors, particularly as we have successfully developed the activities around the initial business launch for each Franchisee.
New Franchisees have consistently benefited from over a month's work from their initial launch activities and promotional support, which is included in the Franchise fee.
Feedback from existing Franchisees confirms what great support they get, not only whilst setting up their new businesses but on an ongoing basis.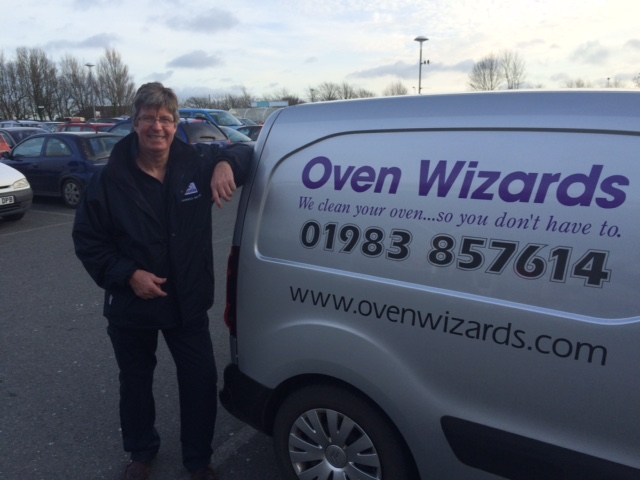 Warwick Bean, who operates his Oven Wizards Territory on the Isle of Wight said, "I'm tickled pink and I was earning money from day one!"
He went on to say "Everyone I talked to said that cleaning ovens was the job they disliked the most, so I set about looking into oven cleaning Franchises. I knew from my first meeting with Mark and John of Oven Wizards that I had found people that I could work with.
I was concerned about whether oven cleaning on the Isle of Wight would be able to provide regular income. They convinced me that with a proven track record of success around the country that if I used the Oven Wizards template, I would be earning money from my first day. I had one week's professional oven cleaning training and then a week on the road with another Oven Wizard to see how they operated, together with excellent behind the scenes marketing support and a fantastic business builder session to show me how to get business before going live."
Of his experiences so far, he said "They were right! - After we launched at a supermarket in Ryde where we made my first months' appointments, I have not looked back. On average I am doing 15 to 20 appointments per week. I enjoy the challenge of running my own business, meeting new people every day, being able to control my working day and the satisfaction from what I do. The great thing is I know that support from Oven Wizards is there if and when I need it."
Warwick concluded "If you want a proven Franchise, enjoy hard work, meeting people and controlling your own business and lifestyle I would certainly recommend Oven wizards."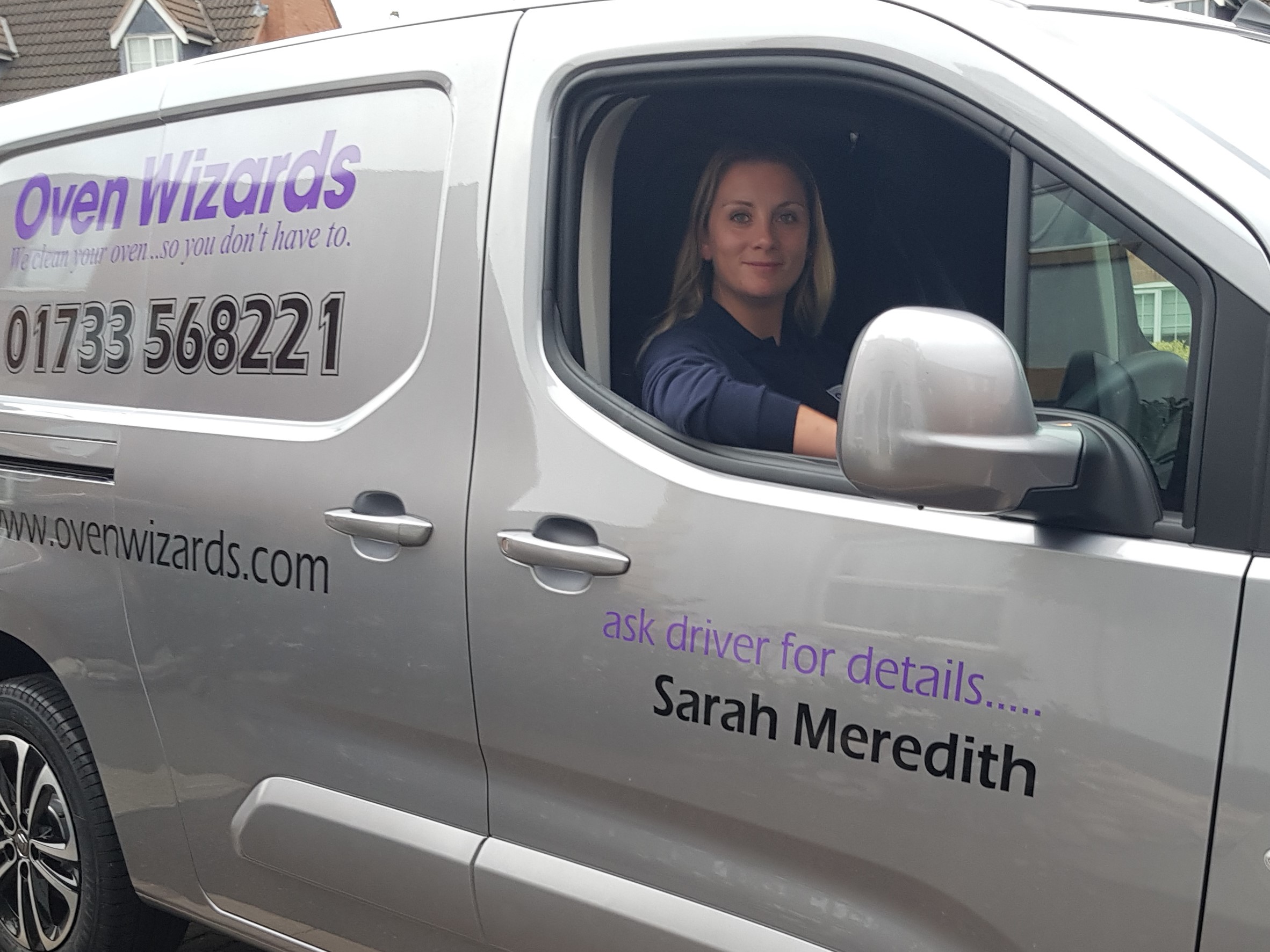 Sarah Meredith, who owns and operates Oven Wizards, Peterborough said "As part of the Franchise package you get training on both the business development and technical side of the Oven Wizards business. The business development training was a good insight into things like how Google works and how important advertising and business development is for your business. The technical training was quite intense but a real eye opener into how to do the job, because its hands on, you're out there with another Oven Wizard learning straight away and they also help give you advice on how they set up their businesses"
Sarah went on to say "We have an Oven Wizards WhatsApp group which is really good to keep in touch with everyone and if you do have any issues we normally post on there and another Wizard comes straight back with the best tip or advice to sort it out. John and Mark keep in touch regularly too, making sure that your online presence is good, so you're never really on your own in the business. "
In line with our Oven Wizards vision and values, we have decided that, for anyone who makes contact with us before 1 June 2021 we will honour the existing franchise fee, provided they sign up with us by 30th June 2021.
Find out more about the Oven Wizards Franchise opportunity by clicking below now!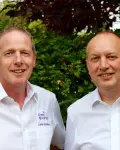 Oven Wizards' Owners Celebrate Their 10-year Anniversary
24th November 2020
The possibilities for growth are set out from the start, with large territories offering opportunities for one van operations as well as scope for anyone seeking to build a multi-van enterprise.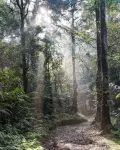 Oven Wizards Take the Lead in Offsetting Carbon Emissions
25th October 2020
In 2020 over 95% of Oven Wizards Franchisees will be offsetting the carbon emissions of the vehicles they drive whilst carrying out their day to day business.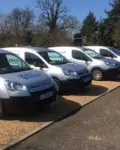 Oven Wizards welcomes Russell Borland and Adam Cole
19th October 2020
Russell and Adam started their training last Month, with a view to being up and running with their new Oven Wizards business in October.
What

Our Franchisees Say

My supermarket launch went really well. I am now looking forward to delivering the service to all my new customers I have booked in.Gary Taylor, North Devon Franchisee

The Business Builder training was very informative and has given me lots of ideas for marketing and advertising my Oven Wizards business… I am thoroughly enjoying all aspects of running my own business.Kevin Brown, Colchester Franchisee

I joined Oven Wizards as a Franchisee in 2004 aged just 19, having been employed as a Supermarket Retail Manager. I invested in the Franchise and was so impressed with the company that I bought another van. My future looks brilliant!James Booker, Maidstone Franchisee
Why

Choose Us

Hands on support of the business owners from day one

Relentless focus on customer service ensures repeat business and recommendation

Best value for money oven cleaning Franchise in the market
Related

Franchise Categories
Related

Franchise Types