Oven Wizards Business
Oven Maintenance Franchise
Mark Abbott and John Graham formed the Oven Wizards business in 2004. Both were hard workers and who had built successful careers.
As Directors, they have combined their knowledge and experience to provide a successful business with over 60 areas and more than 80 vans on the road.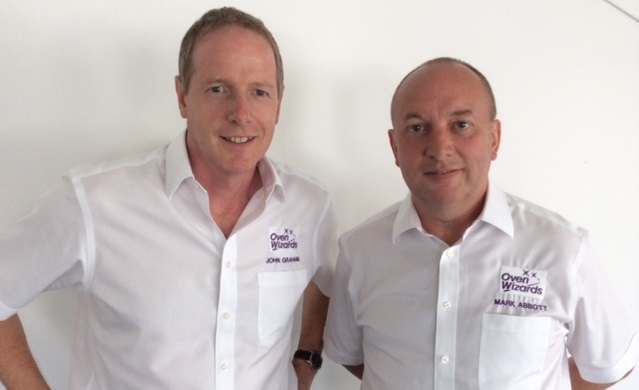 Oven Wizards is a simple and successful business model for hard-working individuals.
They have built a nationwide, successful and mutually profitable network of oven cleaning franchises, based on trust and partnership.
Their vision for Oven Wizards is 'to build an enduring reputation as the UK's most-trusted oven cleaning company in the eyes of its franchisees, customers and trading partners'.
Hear what the Oven Wizards' franchisees have to say!
"In terms of great value and support, I believe Oven Wizards is the best franchise available on the market."

David Tomlinson - Oven Wizards Newcastle franchisee
James Booker
James joined Oven Wizards in September 2006 and renewed his agreement for a further five years in 2011. James said the following regarding his decision to choose Oven Wizards at the outset:
"I looked at many franchises before choosing Oven Wizards and I know, without a doubt, that I made the right choice. Oven cleaning is going through an exciting period of growth and Oven Wizards is perfectly placed to grow with the industry.
My Oven Wizards business has given me the work/life balance that my previous job never did. Working hard reaps its rewards, but I still have the flexibility to take time to enjoy life."
On renewing his agreement with Oven Wizards, James said: "After more than eight years building my Oven Wizards business, I have been delighted with how well it has developed. I have a three-van operation and we are kept busy. I still see massive scope for further development and so the decision to renew was not in question. I look forward to many more years running an Oven Wizards franchise."
James says that Oven Wizards is progressing well under the ownership of Mark Abbott and his business partner John Graham: "The business has gone from strength to strength, not only in numbers but also in terms of focus, direction, support and 'community."
Ray White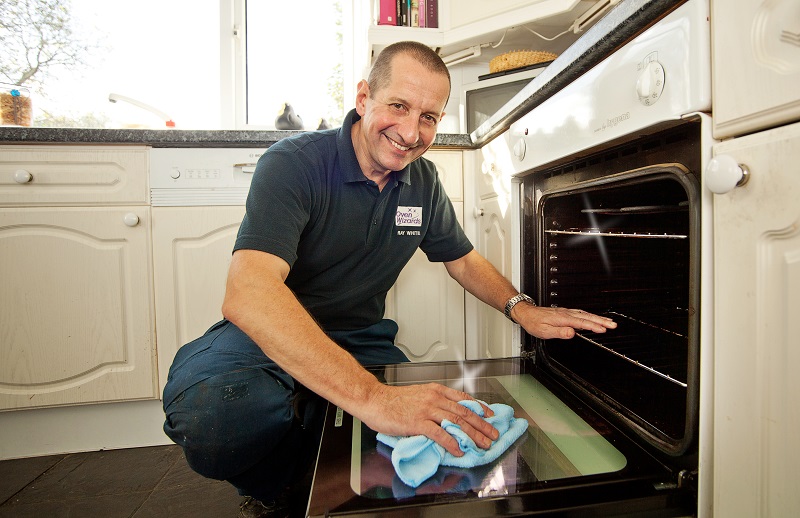 "When it comes to buying a franchise, I have made the right decision by joining Oven Wizards. I looked at the market place and spoke to various franchisors.
I didn't jump in without doing the research up front. It took me about eight months to make my final decision and this diligence has paid off as I am now the owner of a successful Oven Wizards business.
From the initial start in 2012, things have gone from strength to strength. Whenever I have a problem or something I am not sure of, John and Mark are always available to discuss and advise on the best course of action. This is also the case with other Oven Wizards franchisees. Everyone helps each other."
The Opportunity
Oven Wizards is one of the UK's fastest growing oven cleaning franchises. As a franchise owner, you will receive the best value for money franchise package on the market, together with the hands-on support of the successful and experienced business owners from day one.
This franchise is van-based and benefits from low overheads. With a relentless focus on customer service, your profitable and successful business will be built on a firm foundation.
The Franchise Package
Full technical training is provided to ensure you are confident in all aspects of oven cleaning. Business development training is provided separately, on a 1:1 basis, to show you how to attract customers who become regular clients
Large territories, to help both one van operations as well as those with aspirations to become multi-van owners
On-going technical, marketing and business development support is provided, but more importantly, they give you the space and time to launch and grow your own successful oven cleaning business to the level you want
Flexible working hours to help you achieve a good work/life balance
Is an Oven Wizards franchise for you?
No experience is necessary as full training will be provided!
Oven Wizards have helped people from all sorts of backgrounds to launch and grow their own successful Oven Cleaning Business under the Oven Wizards brand name. They are looking for people with the right attitude.
Find out more about the Oven Wizards Business, a successful Oven Maintenance Franchise. Click below now!
What

Our Franchisees Say

My supermarket launch went really well. I am now looking forward to delivering the service to all my new customers I have booked in.Gary Taylor, North Devon Franchisee

The Business Builder training was very informative and has given me lots of ideas for marketing and advertising my Oven Wizards business… I am thoroughly enjoying all aspects of running my own business.Kevin Brown, Colchester Franchisee

I joined Oven Wizards as a Franchisee in 2004 aged just 19, having been employed as a Supermarket Retail Manager. I invested in the Franchise and was so impressed with the company that I bought another van. My future looks brilliant!James Booker, Maidstone Franchisee
Why

Choose Us

Best value for money oven cleaning Franchise in the market

Hands on support of the business owners from day one

Relentless focus on customer service ensures repeat business and recommendation
Related

Franchise Categories
Related

Franchise Types