All The Tools For Success!
"For me, the best thing about being a Snap-on franchisee is being responsible for your own success. The feeling of pride I get from running my franchise tops anything I've felt before in my working life. Me and my family are reaping the rewards of close to ten years of hard work and dedication to my customers. I'm proof that you don't need experience in mechanics or the tool trade to be successful with Snap-on!"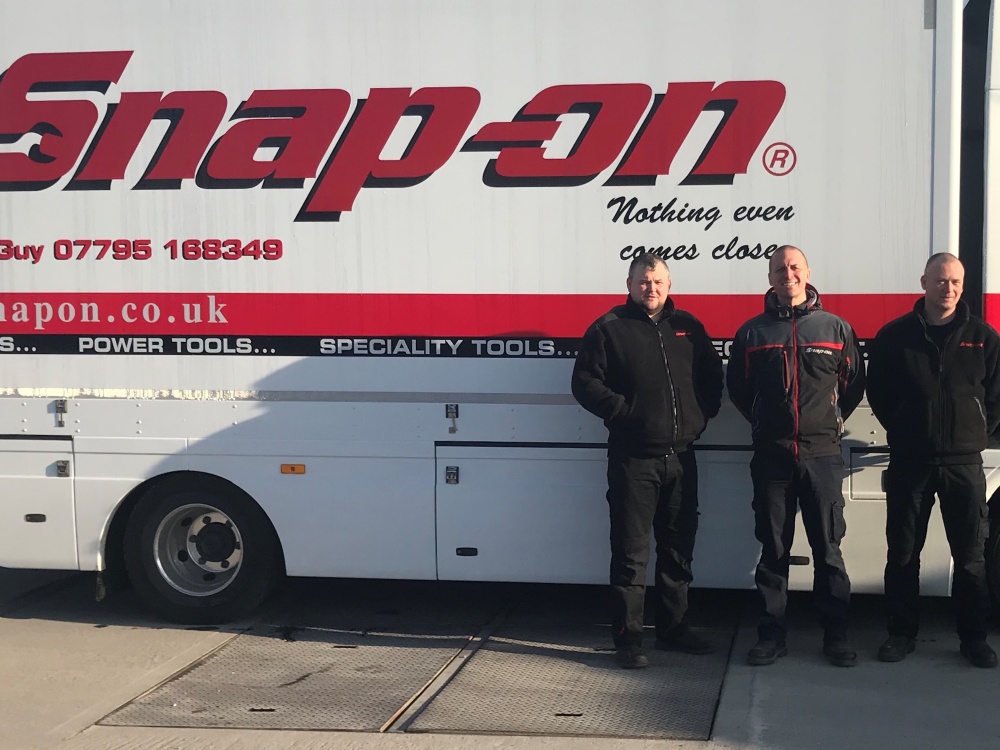 40-year-old Guy Baldwin-Brown, proud husband and father of two, launched his first Snap-on franchise in Ellesmere Port in 2009. A challenging career in the fire service and a once in a lifetime trip around the world saw him questioning the decisions he had made throughout his career in Public Services.
"Growing up, I wanted to be a PE teacher. I studied hard, got a place at Brighton University and landed a good job. It all worked out really well but 12 months in, I realised it just wasn't for me. Still keen to help others, I retrained and worked as a firefighter for around eight and a half years,"
Ultimately, Guy found the same problem in the Public Service sector as he had in his teaching role – a lot of red tape and limitations that he felt stood between him and his career prospects. Feeling the need to make a positive change in their lives, Guy and his wife took a year out to travel the world. Their travels included South East Asia, Australia, New Zealand, Fiji and Canada. It was during the last few weeks of the trip that Guy began weighing up his options and evaluating his priorities.
"Having spent a year living life by my own schedule, I couldn't bear the thought of going back home and working for someone else. Whatever I went into, I was determined to be self-employed. But because I had no trade skills or vocational training, I had no clue what to do and living off an apprentice's income did not appeal to me.
I had a mate who had been successful as a Snap-on franchisee so I gave him a call and picked his brains. He sold it to me in the simplest way possible – Snap-on offers an opportunity to be your own boss, meet new people, whilst selling the most well-known tools in the industry.
You didn't even need experience with the tools – Snap-on teach you all that. We hadn't even got to the end of our conversation before I decided it was high time that I made a call to the Snap-on team!"
Snap-on is the world's number one professional tool brand
They are the leading global manufacturer and distributor of tools for the professional technician. Franchisees deliver gold-standard, premium products to technicians up and down the country. Their fantastic business opportunity offers you the chance to be your own boss whilst being supported by an elite team of industry specialists.
Months of research
After months of research and an in-depth application process, Guy felt confident that investing savings to fund the purchase of his business would be not only sensible but profitable in the long-run. For anyone choosing to join the network today, Snap-on go above and beyond to help with start-up costs and offer a one-of-a-kind 'help to buy' scheme through their in-house bank, Snap-on Finance. This fully regulated finance house eliminates the need for the High-Street banks, offering business loans to successful candidates. And after all, who better to invest in your franchise with you than your franchisor?
"I knew I could make a success of my franchise and Snap-on made it clear that I would be given all of the tools – pardon the pun – I would need to succeed. They weren't wrong. The training was great – especially for a complete tool novice like me! I went in there thinking that my lack of industry knowledge would be a real setback but Snap-on teach you everything you need to know. What I did have – and still have to this day! – is a real dedication to my customers and their experience of the Snap-on brand. The rest comes over time, but to be successful with Snap-on, you need to be a real people person. That's a lot harder to pick up on the job!"
A second territory in 2015

Almost ten years on from the initial launch of his Ellesmere Port franchise and Guy has enjoyed more than just a little success. In 2015, using his profits, Guy invested in a second territory and employed a team of assistants to help run his thriving business. In 2017, Guy was ranked as 12th out of 430 franchisees in the UK and Ireland – an accolade he is proud to celebrate with his peers!
"It's great to finally feel valued and celebrated by the Snap-on network. I'm recognised more as a business owner than I ever was when I had been working for someone else! Had I been still working as a firefighter, I couldn't have afforded the comfortable life I can give my wife and our two little girls. I work hard but, when it gets to a Friday night and the vans are locked away for the weekend, I can enjoy guilt-free family time.
I've enjoyed so much success over the years and have found something I love doing. At the end of the day, that's what Snap-on is all about – it's about being dedicated to the network, your team and your customers and enjoying yourself! Working with Snap-on has given me the opportunity to be part of something bigger – a vast network of like-minded business owners and, if I had the choice to do this all over again, I would do it in a heartbeat."
Guy is proof that experience of the tool trade isn't vital to be a success with Snap-on. If you're looking for an opportunity to provide more for your family then this could be the opportunity for you.
Find out more about the Snap-on Franchise opportunity by clicking below now!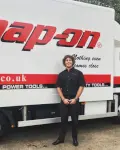 Work Hard, Play Harder with Snap-on!
Craig Bishop has earnt the title of Snap-on Tools UK 'Newcomer of the Year' for his commitment to his customers and his sheer determination to succeed.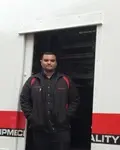 Family Man Turned Snap-on Man!
Lajwer Khattak has a goal to become a multi-unit franchise by the time he reaches 30.
What

Our Franchisees Say

The best thing about being a Snap-on franchisee is being responsible for your own success. The feeling of pride I get from running my franchise tops anything I've felt before in my working life.Guy Baldwin-Brown, franchisee

I love that Snap-on offer you unlimited support. It's so important if, like me, you haven't owned a business before. Sometimes I don't know what I would do without them!James Dainton, franchisee

I've never once regretted my decision to buy a Snap-on franchise and – one thing's for sure – my family will never want for anything. How many young dads can say that?Laj Khattak, franchisee
Why

Choose Us

Get more: more control over your own destiny, more time to spend with your family control and more money to support your dreams.

Snap-on have trained and supported over 430 people, just like you, to build their own successful, profitable business.

With Snap-on, you're never just a man in a van. Their team of over 150 head office staff support you in all aspects of your business; from sales and marketing to product, IT and finance.
Related

Franchise Categories
Related

Franchise Types