Life Changing Events for Franchisee Mary Watson
When Mary Watson and Husband Chris decided to embark on a new life in business together, they had no idea it would coincide with so many other life-changing events. Four years later Mary explains how they managed, and why they're now reaping the rewards: as contented parents, new homeowners and veg box profiteers. Interview by Matt Pigott.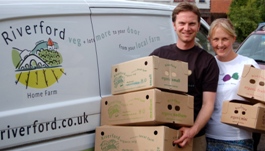 Says Mary: It's been just over four years since we made our first delivery – that was back in May 2007. My husband Chris and I had been mulling over the idea to set up, or buy, our own business for years. Chris worked long hours in advertising, with an early commute, and I worked in admissions at the University of Warwick. We'd reached the point where we realised we both wanted a change. At first we considered starting our own business from scratch, but soon came to the conclusion that might be a little overambitious because we'd had no experience doing anything like that before.
Before we became franchisees, we were actually customers of the Riverford Organic veg box scheme in Leamington, where we were living at the time. Almost by chance, Chris was browsing through the Riverford website when he read that they were opening a new farm in North Yorkshire, and that the Sheffield territory – where I'm from – was available.
First steps
I was 5 months pregnant and had already left work, and Chris and I had also been discussing ways we could move back to Sheffield so that we could be closer to family. It seemed like the right time for us to look into the franchise opportunity, before it went to somebody else, and so we went to the franchise expo in Birmingham, where we met some of the existing Riverford franchisees. Next, we made a trip down to Riverford's main farm in Devon. We were so excited after that we went ahead and lodged our formal application to buy the Sheffield area straightaway. When we were in the process of submitting our business plans everything became rather hectic: I went into labour two months before my due date, and our son Zachary was born on December 8th 2006 – seven weeks premature.
We still managed to get everything in on time and found out our application had been successful just before Christmas, at the same time we were getting ready to bring Zach home from hospital. April 2007 was scheduled for the launch of our business so the next few months were a blur of selling our house, Chris working his notice and getting to grips with being new parents! When we first moved back to Sheffield we went to live with my parents in their spare room for six months while we waited for our house purchase to go through. It actually worked out pretty well having live-in babysitters at that time!
Time together
Everything has obviously settled down now, and we're into a steady routine. I love being a mum while also working on the business part time. For Chris, the biggest benefit is that he's been able to spend more time with Zach. Before Riverford, Chris would have been out of the house for 13 hours a day in his job as an Account Director for an ad agency, and he'd have seen very little of him Monday to Friday. Now, even though Chris starts work very early – at around 5.30am – he's usually home by early afternoon. My commute is to the office at the end of the garden – even shorter than the school run!
Show business
In summer, we do a lot of local shows, which is one of the best ways to get new customers. Almost all of the shows are on weekends, meaning you have to be prepared to work Saturdays and Sundays. But it's vital for us to keep on meeting potential new customers to grow the business, and shows are great for this as customers can see our fantastic produce and chat with us about which box will suit them best. Of course, you have to remember to stay focused on your existing customers too, particularly around holiday periods when a lot of people go away and put their orders on hold. The main thing is to ensure you regularly stay in touch with all of your customers in some way as it makes them feel valued and also reminds them that we're here.
One of the things we've learnt over the last few years is that customer retention is just as important as acquisition, because it's harder to acquire new customers than satisfy the ones you already have. So we, and the farm, work extremely hard to keep our existing customers happy.
Well supported
The availability of our virgin territory coincided with the opening of Home Farm. We've had a lot of support from Riverford head office from day one. They've helped us with everything from setting up the business to our initial launch campaign, which included PR and leafleting. In our first delivery week we had just 60 deliveries to make. We've now got 500+ per week, with plans for further expansion.
Loyalty matters
We did really well in our first couple of years, and had excellent growth. Now we're going through a period of slower growth. But I'm pleased to say we have a really solid and loyal customer base. There are a lot of customers we've got to know quite well, which is one of the best things about being a Riverford franchisee – the fantastic people you meet. Whether it's at their home on the doorstep, by phone, email or at shows, it's nice to talk or spend a little time with the people who make your business work. When we're doing shows, customers we've never met face-to-face often come up and introduce themselves, which is lovely. You really feel like you're a part of the community, and people notice when you go the extra mile.
Last Christmas, when we had more than a foot of snow, Chris, the drivers and even some members of my family worked relentlessly to make sure that our customers got their deliveries on time. The conditions were perilous, but Chris and the boys got all of the veg boxes out. We had so much positive feedback as a result of their efforts. People felt extremely valued, and delighted that their Christmas dinners weren't missing any vital ingredients!
From passion to profit
Riverford started out as a small family business, and it's refreshing that they've managed to maintain that family feel. Guy Watson, the founder, is really approachable. Ultimately, his passion is organic farming, and everything stems from there. I think the family business ethos flows right through the business – from the farm to the franchisees, to the customers. It's what makes it special.
From a purely business perspective, the staff members at head office are fantastic too. They take up a lot of the slack for us; so if we can't speak to a customer for any reason, somebody at the Farm will handle the call and they provide holiday cover for our emails and phone calls. In addition, the website and all of the marketing materials are produced and managed centrally, which frees me and Chris up to get on with the business of delivering the produce and developing our business locally.
I suppose what I'm saying is that you never feel alone as a Riverford franchisee; you always feel that you're part of something bigger.
To find out more about Riverford Organic Franchise just click below