From the Public Sector to the Open Road
"I went to buy a veg box and ended up buying a veg box business!"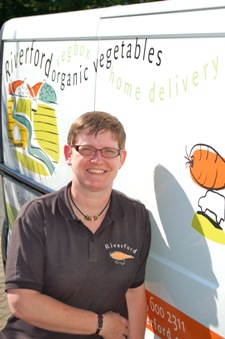 Vanessa Cook left her public sector job in 2005 to join her husband delivering organic vegetables, and other produce, in the Milton Keynes area. Here she talks about her transition from 9-5 office work, to life on the open road as a Riverford Organic franchisee.
Says Vanessa: "My husband Russell used to be a high level electronics engineer working for global companies. He was fed up about always being away from home – staying in hotels and living out of suitcases. And I was tired of my corporate policy and communications role within local government. We both wanted to make a life change and had been discussing starting a business, but we hadn't considered buying a franchise.
Then Russell saw a Riverford Organic van while he was stuck in a traffic jam on the M40. We'd used a veg box scheme in the past, and liked it, but had stopped using it, probably for circumstantial reasons. Russell knew I'd wanted to find another veg box provider because I really don't like going to the supermarkets. So he called me as soon as he had the chance to pull over, and suggested that I give Riverford a call to see if I could arrange a delivery.
Perfect Timing
When I called Riverford, I found out that nobody was delivering in the Milton Keynes area because it was too far away from the main farm in Devon to make distribution to Milton Keynes viable. But, a sister farm – Sacrewell Farm – was about to open in Cambridgeshire, and Riverford were ready to begin further expansion. What that meant that was the Milton Keynes territory was available for somebody to buy and develop. It seemed like a perfect opportunity for Russell and I to invest in an area that already appealed to us.
Three weeks later, in June 2004, Russell went down to the Devon farm, and was taken on a tour. After that he met with existing franchisees and liked everyone he met. Then, in October 2004, we signed the franchise agreement and became the owners of the Milton Keynes territory.
Seeds of development
We sold our first box in February 2005, which was a bit scary but also an exciting experience. We finished that first round very late. Everything was new to us. We had to count the takings, and enter the figures into the system Riverford had given us. It was a tiring but thrilling initiation to the business.
At the time, I still hadn't left my job. Initially, the idea had been for Russell to operate the business while it got off of the ground, and for me to continue working for the local government for the added security in the early stages. But I found it impossible not to get more involved in the veg box business, which interested me more. So in June 2005, I took voluntary redundancy.
From office life to the open road
When we first started out we had 54 deliveries to make on the first day, and 130 in the first week, all found for us by Riverford. That was another thing – the level of support from head office was extremely high right from the start, and enabled us to quickly gather momentum once we started.
Today we have around 800 weekly deliveries and have taken on further territories and drivers.
The thrill of the ride
Personally, I love driving the van around and meeting customers. It's great fun, and even though I still do a fair bit of administrative work at home, I'll always want to keep one round going for myself.
Going out in the van is a freeing experience, and meeting people face to face enables you to find out what they want, and need. Engaging with customers also helps to foster their loyalty. In this business, retention is phenomenally important to ensure continued growth. You have to work hard to get new customers, and so that makes it even more important to keep the ones you've got. Russell and I thank our customers every night for making our business a success.
Unexpected opportunities and marketing for growth
In December 2009 Riverford asked us if we wanted to also take on the Stevenage territory – mainly because they knew they could trust us to do a good job of running it – and we took it on. Then, in February 2010, we also took on the Luton franchise. The existing franchisee had become very ill and needed to get out quickly, which is why we stepped in.
To promote further growth in our three territories, we do a lot of shows where we can meet people and tell them how Riverford works, and how our products and service can benefit them. We do the shows right through the summer to boost business for the busier autumn and winter months, and they're also great for generating enthusiasm about the brand. We're quite evangelical about Riverford, and about organic food, and I think our passion certainly helps when it comes to getting people to try a veg box for the first time.
We also get a lot of additional exposure from the branded vans. The vans are obviously an essential part of the core business, but they also work wonders as a marketing tool. After all, that's how we found out about Riverford in the first place!
Combined with leafleting, and some advertising in smallish local magazines – plus the genuine quality of produce, which sells itself once people have tried it – we manage to get a good flow of positive word-of-mouth, which helps ensure that we regularly gain new customers. Over the last six years, we've become a strong feature in the local community. All of our customers know we live in Milton Keynes, and for many of them buying organic food from a local business has become very important.
Knowing your Kohl rabi
Once customers have signed up to a veg box delivery, there's quite a lot of personal interaction and support. We're very focused on the educational side of the business. That means if a customer doesn't know what to do with Kohl rabi, we'll give them some tips or recipes. And if they're concerned that their carrots are bendy, we'll remind them to twist the green tops off, which suck up the moisture.
These little bits of useful information put people in touch with what fresh organic veg is all about, and they also help to build the essential relationship between our customers and us. As a Riverford franchisee, you really become part of the fabric of the community; you even get to know, for example, if somebody has just had a baby, or if somebody's relative has just passed away – you become a part of peoples' lives – and that feels good.
The right balance
Running a Riverford Organic franchise is hard work, but Russell and I have an infinitely better lifestyle than we did when he worked as an engineer and I worked in the public sector. We enjoy a much better quality of life, and although we know Riverford isn't the kind of business that will make us millionaires, it is a profitable business, and one that makes us very happy – something that's of far greater value."
To find out more information about Riverford Organic Franchise click below