James Negus Went Back to his Roots with Riverford Organic
James Negus took over a Riverford Organic franchise territory 4 years ago. During this time he has turned the business around, increasing customer engagement, driving sales and boosting business revenues by 150 percent.
Says James: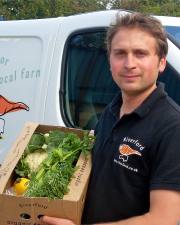 I found out about the Riverford opportunity through the family business. My family are part of a cooperative working for Sacrewell – a sister farm of Riverford in Cambridgeshire – and have been farming for around 40 years. When we sold our own vegetable growing business, we decided to retain the family farm, and began growing organic vegetables. Now our most varied output of crops is for Riverford.
You certainly don't have to come from a farming background to become a Riverford franchisee, and it doesn't give you any clear advantage, but I've been privileged to see how the business works first hand. I believed I could make the Bury St. Edmunds territory more profitable, which is why I decided to make an investment.
I was actually a Riverford customer in Wiltshire before my family got involved with the company, so becoming a franchisee has been an interesting twist of fate. I've always had a love of food, and have worked as a chef in several restaurants, it's been good to get back in touch with fresh produce. I also get to bring my culinary skills to the table, offering tips to people about cooking, and giving advice on recipes that will help them make the most of their veg boxes.
The freshness formula
As a former chef and keen cook, food quality is everything to me and Riverford's food is the freshest. Vegetables picked in the UK on a Wednesday are boxed by Thursday, and delivered on Friday. This contrasts with supermarkets where vegetables can be left in cold storage for over a week, losing flavour.
Riverford's attention to detail in areas like this makes me enthusiastic about the brand. However, it's still vital for franchisees to work hard on marketing at the local level to increase turnover and profit, which is where I've been focusing most of my efforts.
Letting them know why
One of my key missions as a franchisee is to let people know 'why' we do what we do. If people understand what is behind a business, they can then trust them and will want to support that business. We have a great brand at Riverford and people love what we do, whether it is our fresh veg, promoting healthy eating, passion for cooking or working with kids. Letting other people know this is a key tool to building your business. To achieve this, I attend as many weekend shows as I can, particularly in summer, to promote Riverford locally and sign up new customers, as well as getting into the community for pop up supper events and cooking demos.
Hard work pays dividends
When I took over the franchise, I was in the office one day a week and driving four days. I now employ two drivers, Andy and Rod, to help me with all the delivering. I am in the office two days a week, taking care of the administrative and marketing sides of the business, and then I'm out on the road the other three days. When we're making deliveries we get to the hub, where the produce is delivered, by 6.30am. Then we're on the road by 7.30am and finish between 4 and 6pm.
Ample turnover
Since I took on Riverford in Bury St. Edmunds, it's been rewarding to see my efforts are paying off with business increasing. My customer base has gone up from 130 to around 300 customers. But it hasn't only been about increasing customer numbers; increasing average customer spend has also been a key part of my strategy.
At the end of my first year, the average spend was just over £18 a week. Now it's around £23. It doesn't sound like a massive increase, but when you're making hundreds of deliveries, it can add thousands of pounds to your balance sheet. I've achieved this mainly by working on customer engagement, such as letting them know when something new is in, and simply by staying in touch.
For example, I use our seasonal fact sheets, circulated by the farm to franchisees, to highlight the best veg to lookout for at that time of year. I love sharing this information with customers either via email, social media or when we see them on the doorstep. Customers love to add these seasonal specialities to their order and hence it increases average order spend.
A network of support
One of the best things about being a Riverford franchisee is that, when I need advice or support, I can turn to the other franchisees in the network. Some of them are very switched on and have much more experience than I. It's great to hear about the marketing initiatives that have worked for them. Being proactive and using the franchise network as a resource ensures that I learn from other people's mistakes and not just my own, which helps me to make the most of my time and maximise the potential of this growing business.
To find out more about starting your own Riverford Organic franchise just click below
What

Our Franchisees Say

It feels good to be investing in a company that has such a strong code of ethics and isn't all about making more money.Jo & Phil Limb, North Devon Home Delivery

Trust in the Riverford Business planning process. It may seem time consuming and complicated at the outset but is based on sound /tried and tested principles. If you follow it's logic it'll give you a great steer and provide a solid base for achieving success.Hilary Garnham, Somerset West Home Delivery

You need to love the product or the business you are promoting. If you don't subscribe to that, you can't inspire others to feel the same way.Fiona Littleton, East Manchester Home Delivery
Related

Franchise Categories
Related

Franchise Types