Steve and Lynn Allen, A Riverford Organic Case Study
In August 2012, long standing Riverford Organic customers Steve and Lynn Allen decided the time had come for change. Tired of the constraints of employment in Nottingham, and with a new family to look after, they decided to start their own business as a way of achieving a better income and greater flexibility.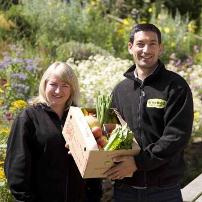 But with perceived rewards came risk. To achieve their goals the Allens had to sell their home to release equity, and secure a business loan through HSBC to pay for a well-established Riverford franchise that was bought for £160,000. Then they had to move to Cornwall.
Matt Pigott interviews
Says Lynn: Before moving to Cornwall to take on our new Riverford business, we lived in Nottingham for eight years.
I'd worked as a product manager in an interiors business, but was made redundant while on maternity leave.
Steve was working as a designer and project manager for an events company. Then we had another baby, and both wanted to have more flexibility so that we could spend more time with the children. I also wanted to work, as I'd never envisaged myself being an at-home mum on a long-term basis. We needed to find a way to achieve all of these things and bring in a healthy income, and buying a franchise seemed like the answer.
Why Riverford?
We'd already been Riverford customers for about five years, and loved getting our organic food boxes delivered each week, mainly because of the excellent quality and flavour of the food. When we decided to look at buying a business, it seemed natural for us to start with a company we knew, that we believed in and that we knew offered a franchise opportunity. The fact that Riverford was organic, with a strong focus on sustainability and ethics, and the fact that we loved the produce were all additional pull factors.
Greater cost for greater returns
Because of the cost of the franchise, which was high for us, we were nervous about making the investment but we knew that we would bitterly regret it if the territory went to another buyer.
Now that the purchase is behind us, and we're Riverford franchisees, we're happy with the decision we made. Perhaps the most important thing we've learnt is that when you invest in a franchise with a company that's been around for 25 years, you have all of the necessary systems in place, as well as the knowledge and expertise of others to draw on. You don't need to be a seasoned entrepreneur to succeed – you just need to be prepared to work hard for your business.
Was it tough starting out?
Says Steve: "Whenever you start something new, there are lot of things to learn, particularly with an area the size of ours.
We cover the whole of Cornwall, which used to be two territories until the previous franchisees bought the north and combined it with their territory in the south. We're glad they did that because the higher output suits our personal and business needs.
Because it's a big territory, we've got five drivers working for us, delivering between 800 and 900 boxes of organic produce each week. The geography is challenging where we are because you've got houses down tiny country lanes that are quite remote, so the logistics of fuel consumption and route and time management are important considerations for us. You have to work hard to streamline operations so that you don't unnecessarily eat into profits. On the flipside, customers are more likely to sign up for a delivery because getting to supermarkets is more of a problem.
The service we provide suits elderly people or people with disabilities, and they enjoy the sense of community that comes from having their organic food delivered by drivers they've come to know.
Did buying a franchise resale make starting the business easier?
It's true that buying a resale requires a lot more investment, but that's because so much of the hard work has already been done.
We knew we didn't have the time or expertise to build a business from scratch, especially not in the farming and food distribution sector; we needed the expertise and systems of an established company, and we needed a solid income from day one, so a resale was the only real option for us. You've got an established customer base, and a clear idea of profit and potential, which were critical factors in our decision-making.
There were other benefits, to: I think we were lucky to inherit a franchise that's been cared for by the previous owners, who were keen to share their knowledge and experience with us. That's saved us wasting time and money trying things out just to find out that they don't work further down the line.
Support from the top and sides
Riverford head office and the company's field team have been on hand to help us from day one. We've also had support from other franchisees in the network. We've never felt as though we were going it alone, which is one of the best things about being a local business and part of a national network.
There are other advantages to being part of a bigger organisation, too. If a customer can't get hold of us, for example, they can ring customer support at head office. Somebody is always there, even if we're not. Having head office on hand makes a huge difference. It's like having the benefits of a big company without the headaches and responsibilities of people management. Ultimately, we're free to focus on what's happening at the local level, which is the most important thing.
Focus on growth
Says Lynn: "One of the best ways to grow the business, we're discovering, is to attend local food and farm shows where we're able to meet potential customers, and tell them about Riverford. The shows take effort, and we have to do them on the weekends, but it's the best way to engage with visitors – and it's fun. People can see the quality of the produce, ask questions and try anything we might have cooked on the day. The shows also enable us to build up our database so that we can stay in touch with potential customers.
Flexibility for the future
Riverford is the kind of business that works for us. It's full-time but affords us great flexibility. We're now able to work around the children and set our own schedule. It's still hard, and sometimes we'll work until 10pm, but we're able to juggle things more easily, do the school run and spend quality time together as a family. And the children get to see us working. Even though they're still young, I think that helps to put them more in touch with the real world.
Ample turnover – aims for future growth
The turnover of the business when we bought it was just under £1million. Over the next three-to-five years we'd like to push growth to £1.2million. Our aim at the moment is to keep the business steady while we get to grips with what we're doing, then work towards increasing our net profit through careful marketing as well as ironing out any kinks that we come across in the business model.
If you would like to find out more about Riverford Organic for yourself just click below