Paul Jardine, a Riverford case study
48-year-old Paul Jardine began running his Riverford Organic food delivery business in Highbury and Islington – one of the company's most populated territories – six years ago. On his first day, he made just 27 deliveries alone. Now, he has six drivers making 900 deliveries a week.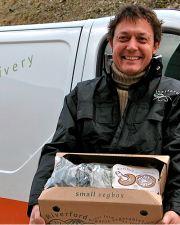 Here, Paul talks to Matthew Pigott about why he invested in Riverford, why it's not all about the money, and why he wants to be known as North London's local organic food delivery man until he retires.
What made you decide to become a Riverford franchisee?
I've always been interested in environmental and sustainability issues. I went to university, where I did a degree in human geography and covered those subjects in depth. When I finished university, I got a sales job in the print industry, but I still wanted to be involved with a company that shared my ethical values.
I wasn't looking for a franchise opportunity as such, but when I came across Riverford, I felt compelled to learn more.
I did some research to find out if the Highbury and Islington territory was available, and when I learnt that it was, I submitted an application. It was eight months after, that I delivered my first box.
What is it that you like most about Riverford?
The people behind it care about the environment, and are deeply concerned about sustainability issues. The company and individuals within it have won lots of awards for ethics, and the founder, Guy Watson, won the BBC's Farmer of the Year award in 2012, which was a major coup. These things are a continuing reminder that I made the right decision to become a Riverford franchisee.
As a city-based operator, do you feel that you're taking more than organic produce to people – that you are in fact delivering an ideology?
I don't feel I'm on some great quest. When I started, veg boxes were still a relatively unusual concept. At first I suppose I thought I was making a difference, but there are so many other environmental issues to consider, and that makes my contribution just a small one, but a contribution nonetheless. I think the most important thing about what I do is that I'm encouraging people to eat good, fresh organic food from an environmentally responsible provider.
Are you much of a foodie yourself?
I've always enjoyed eating well. I grew up in a house where my mother enjoyed cooking meals from scratch, so I was used to coming home and smelling food being prepared. I have to say that, even if I wasn't a Riverford franchisee, because my wife and I both love to cook with fresh organic food each night, I'd still get a box delivered because it works well for us.
What happened when you got in touch with Riverford for the first time?
They were approachable, and recognised that I was thinking about making a life changing decision. It was good to feel valued from the outset. When I first visited the farm, I was taken out in one of the four-wheel drives, and got to visit the packing house. I met some interesting people working within the company, and got to understand what Riverford is about. Seeing the farm helped me to make an informed decision about my investment.
What happened once you'd signed the franchise agreement?
I spent a week at the farm in training. Among other things, I learnt about the software I'd be using to run my business, I learnt about operations at the national and local levels as well as how to organise my rounds and do local marketing.
Because mine was a virgin territory, and it was a year before I took on staff members, we didn't cover employment issues. However, since taking on staff, I've had the benefit of getting advice and support from head office and other franchisees in the network about what it means to be an employer.
What marketing did you do to your business up and running?
I did a lot of leafleting, which helped me to learn about my territory by driving and walking it. Leafleting is a fairly cheap and effective way of reaching a large number of people.
I also attended a lot of shows, and still do: summer fetes, Christmas fetes, places where you set up a stall and speak to prospective and existing customers. Around four or five years ago, I also started running customer lunches where cooks come along and prepare food for customer's and their friends. It's a fantastic way to meet new people and sign up new customers. More recently, I've started using social media, which helps with customer retention.
Finally, I should mention the liveried vans, having six branded vehicles out on the road each day is great for raising awareness.
How have things changed since you started your business?
The average order value has increased by around 30 percent, mainly because the range of food that Riverford sells has grown over the years. Now people, even ones that ones that aren't necessarily concerned about the ethical side of the veg box scheme, might use Riverford for its range of organic wines or the organic meat we sell. Because we're delivering more food, the rounds take longer than they used to, which means I've had to invest in bigger vans.
How would you describe your relationship with your customers?
I met my wife through one of my customers, so I'd say it's pretty good!
I know a lot of them by name, and I know what food and drink they like, so I'm able to offer a level of personal service that the big supermarkets, or people who don't have a vested interest in direct customer contact, don't usually provide.
What kind of support do you get as a franchisee?
The farm provides a lot of support. They promote the business by placing adverts in national newspapers. They also provide high quality promotional material, which is designed at head office so you never need to think or worry about it. We also get support when we want to try something new. Riverford helped me get my customer lunches going, and they have been very successful.
How has your business grown since you started?
The business has gone from nothing in 2006 to a turnover of nearly £1million today. I think the point is that people still need to eat and they need to eat well. The quality of Riverford's produce is exemplary, which is the main reason my business continues to thrive. I'm always thinking of ways to develop it, and I'd like to see it grow by 10 percent over the next 12 months. In five years time, I'd like to be making 1500 deliveries a week.
What's the best thing about being a Riverford franchisee?
That I can look people in the eye knowing I'm involved with an ethical company I'm proud to be a part of. I also feel fortunate to be in the position to develop and grow a solid business I can sell when I retire.
If like Paul you would like to start your own Riverford franchise then don't delay and click below