A Day in the Life of Mark Addison – Revive! Franchisee for Doncaster.
"Since Starting with Revive! last year I've not had two days the same, which really suits me as I detest routine. Read my diary of a typical day" - Mark Addison, Revive Franchisee Doncaster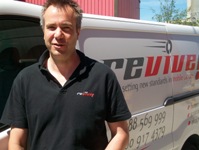 Following a short drive I arrive at my first booking of the day with Mr Smith and his Peugeot, which has a bumper scuff. I examine the damaged area, explain how I will repair the bumper, finalise the quotation, which the Customer is happy with and proceed with the job. I position the van next to the car, get the car keys, electrical power to the van and I'm ready to go.
The work is weather dependant, but I've already checked the forecast and have been promised a dry, still day, so I'm not going to need to put up my canopy. The repair is relatively straightforward and goes to plan. I'm even offered coffee and biscuits when I've got time to enjoy them. The repair is completed, customer delighted, invoiced and I'm paid by mid morning. I've also had time to place an order with my supplier to re-stock materials, which I will receive the next day.
Now it's off to one of my regular car dealers who has a couple of cars that have just been delivered and need repairs doing before they go up for sale on the pitch. Trade prices tend to be less than those charged to private customers, so the trick is to get yourself organised and the cars set up so you can keep working without delays. There's a couple of repairs to do on each car and but they are relatively straight forward so I can get through these quite quickly and move on.
It's important to think ahead and be flexible to meet customer requirements, which can sometimes be very fluid. Fortunately, the dealer's requirement has not changed today and I complete the repairs by early afternoon. During invoice sign off I schedule my next visit for the following week.
I'm now ahead of schedule, so use the time gained to follow up leads from the previous evening's networking event and organise quotations for later in the week.
I next pop to someone's house to do a quote for a customer who lives within a short distance from my final booked repair of the afternoon. Planning your workload effectively helps to minimise travelling and waiting downtime.
This customer has a dented and scratched door panel and already has had a quotation from a body-shop. He's pleased with my quotation as it's much cheaper than his first one and he doesn't have to arrange a hire car whilst his car is kept by the body shop. The job is booked in for the following week.
My final Repair is on a kerbed alloy wheel for the neighbour of a previous customer who I'd done a similar repair for during the previous month. It's very encouraging when you receive customer referrals and repeat customer repair requests.
On first appearance this repair looks to be a little bit unusual, so I give one of my colleagues at Revive!s Head Office a call to check some details before I finalise the quotation. Following a brief conversation with someone in technical support I realise there are no concerns and I can proceed as usual. That's one of the best aspects about Revive! – if you are unsure, you can pick up the phone and get the support you require straight away.
The customer is happy with the quotation and as the car is available I get straight to work on the repair, which goes well.
Whilst I'm waiting for the lacquer to cure I call a fellow franchisee to see how he is doing. The Revive! network is an excellent way of sharing information and experiences, which are essential when growing a business.
Driving back home gives time to reflect on the day. All customers were happy with their repairs, which is most important. In addition I'd ordered materials and booked additional work for the following week. The final task is to complete my accounts admin for the day, which takes just a few minutes.
Successful day today, tomorrow all planned – now off to the gym!'
To find out more about becoming a Revive! franchisee just click below
What

Our Franchisees Say

Having worked with the Revive! team for a little time now, it is great to know that there is always someone at the end of the phone to help with technical support or just general advice of how to continue developing my business.

The fact that head office does the accounts and administration for me is really helpful. Also Revive! has a national website where I get a lot of my leads from.Dan Normanton
Why

Choose Us

The Revive! Directors have many years experience in the Smart Repair sector and two of the Directors run their own highly successful Revive! franchises.

Revive! are the first company in the Smart Repair sector to implement the use of Water Based paints ahead of legislation that will restrict the use of environmentally damaging solvent based paints.

Revive are the first full member of the British Franchise Association in their industry sector.
Related

Franchise Categories
Related

Franchise Types