From the Boardroom to the Dining Room
Nicola Pearson has owned and operated the Apollo Blinds Buckinghamshire franchise since 2017, after calling time on a high-flying 18-year career in advertising.
Firmly recognising it as "the best move she's ever made", Nicola went from the boardroom table to her dining room table to start her own business from home, and she's never looked back.
Looking for an opportunity to be her own boss, to use the marketing skills she had acquired during her career and to make more of her passion for home décor, Nicola sought a franchise business within the interiors market.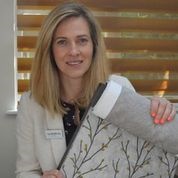 Nicola says: "I had gone as far as I wanted to go in my previous career, and I needed something that could fit around my life, rather than fitting my life around work.
"I loved my job working within some of London's top media agencies and had achieved a lot, but I wanted to carve a different path that would give me more control over my working hours and more flexibility.
As a mum of two, commuting into the City everyday had also become challenging.
"The idea of owning my own business had always appealed to me, but the reality of starting something from scratch is scary, especially when you have dependants and a mortgage to pay. Going from being a PAYE employee to self-employed is a big change, but a franchise business offered me the support of an established business yet lots of potential to grow. It didn't feel as much of a leap as doing it all on your own.
"I met with a lot of franchise businesses and did my research, but I knew immediately when I met with the franchisee recruitment team at Apollo Blinds that they were for me. Apollo is a well-known brand, and the franchise business has a proven track record, with plenty of scope for growth and long-term potential. The figures stacked up, the business model worked, and the opportunity offered me the autonomy and control I desired and the flexibility I needed."
After a solid 18 months trading as a mobile franchisee within Buckinghamshire, Nicola took on a second Apollo Blinds franchise in nearby St Albans. Exceeding her sales targets for both businesses year on year since launch, she now employs a fitter to help with the installation side of the business.
"I think a key part to being your own boss is knowing what you're good at and bringing in people to help with the bits you can't manage yourself, be it through a lack of time or skill. I outsource what I can, from call handling and accountancy to the fitting.
"Doing this gives me the time and head space to focus on the areas of the business I can do well, such as sales and marketing, meeting customers, and talking fabrics and interior design. I love the social aspect of the job: since working with Apollo, I've really got to know my local community. I'm known as a local business owner – I even sponsor my son's junior football team, which fills me with such joy!
"Running your own business is no walk in the park: it takes hard work and dedication. Nothing is handed to you, but the rewards are worth the effort. I can do the school run, walk the dog, go for a run and fit my lifestyle around my work, which for me is living the dream."
Nicola offers this advice to anyone looking to venture into a franchise business:
"Research, research, research! The more informed you are about the business – the network, market size, investment, head office support, products, margins, everything – the more you can be confident that the business is, or isn't, for you. Dig under the surface to understand the potential pitfalls and danger zones. Do wider business research within the sector you're looking at.
"Go to exhibitions. Meet other businesses in the network in real life and interrogate them. Who will be the competition? What are the nuances between the different territories on offer? Talk to other franchisees and do field research – what can you offer that is better, new or different?
"I also think the business opportunity has to fit with you as a person – what lights you up. I have a real interest in interiors, so talking about the products and options with customers is really enjoyable for me. And being able to build rapport with customers is key to this job."
Find out more about the Apollo Blinds Franchise opportunity by clicking below now!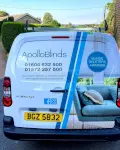 Husband and Wife make top team in franchise venture
After facing redundancy from his long-standing career as a sales and marketing director in a national soft furnishings business, Barry faced uncertainty with a lack of decent opportunities in the corporate world.
What

Our Franchisees Say

No two days have ever been the same in the 24 years I have been with Apollo Blinds, and that is why I'm still as passionate about it as I was when I first started. The best part of what I do is helping my customers to find the right blinds for them. I love going into customers' houses and making recommendations and then seeing the thrill on their faces when their blinds are installed.Amanda Hannan from Apollo Blinds Glasgow Shawlands

I chose Apollo for its wide range of quality products and support structure. I have access to some products that none of my local competitors have. The business is as profitable as you want it to be. I am now making a better living than I ever have, and the best thing is that I can choose how much work I take on.. It may not make me a millionaire, but I have a great work–life balance.Andrew Micklewhite from Apollo Blinds Cardiff

A franchise was the perfect platform for me because I have access to products that none of my competitors have. This has allowed me to achieve high order values because I'm selling and installing high-quality products. I simply couldn't have afforded to go it alone and set up my own blinds business from scratch.Peter Stephen from Apollo Blinds Newcastle & Tyneside
Why

Choose Us

A team of skilled experts are available to provide one-to-one support every step of the way in building your business.

lots of more-practical support

A four-day dedicated induction training programme
Related

Franchise Categories
Related

Franchise Types