FiltaFry Franchise
FiltaFry's Latest Franchisee Purchases Two Territories
8th June 2017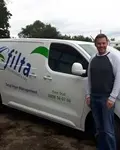 FiltaFry's latest franchisee, Giles Wallis has purchased both the NG and DE postcode and is looking forward to launch!
With the halfway mark of the year already upon us, FiltaFry continues to grow and has high hopes of ending the year as well as it has started! FiltaFry still has loads more opportunities available for the right people and the team are always ready and looking out to help others get started…
Their latest addition, Giles Wallis intends to run a multi van operation between his two territories, Nottingham and Derby and will be taking on employees to help him do so as his business expands and develops.
Giles is also the first franchisee to take advantage of Filta's completely brand new van livery. The new livery helps bring together Filta's global branding and includes all of the services under the Filta umbrella, some of which are available for the FiltaFry franchisee to use as an upsell.
Find out more about the FiltaFry franchise and discover available territories by clicking below to request your FREE franchise information pack

FiltaFry Franchise News